Friendly Tasks for Meeting


Care of Meeting: Lynne L
Key / setup: Don G
Setup Helper: Wendy G
Greeter: Joanne C
Snack: (potluck)
Kitchen setup:

Jim G


Kitchen setup Help:

vacant


Kitchen cleanup:

Susan R


Kitchen cleanup Help: Allan R
Children's teacher: Virginia H
Upcoming Second Hours:
Dec 11 - MfWfB
Dec 18 - Intergenerational Holiday sharing
Dec 25 - TBD
Jan 1 - TBD
Jan 8 - MfWfB
Calendar for Bellingham Friends
Midweek Worship
No midweek worship this evening (11/30).
Thurs, Dec. 1, 7 - 9 PM
Spirit Group
at Larry T.'s home
See Spirit Group Announcement below for link to readings and more information.
Saturday, Dec 10, 10AM
Friendly Listening Group
Terra Organica, 1530 Cornwall Ave.
Contact Dusty Andersen or Lynne Lohr for more information.

Wed, Dec. 14, 7 - 9 PM
Midweek Worship
at Mary Ann P's home
Silent worship and worship sharing - Usually 2nd and 4th Wednesdays.
November query of the month: from NPYM Faith and Practice (p.43):

"How do we use our diversity for the spiritual growth of our Meeting? Are we prepared to let go of our individual desires and let the Holy Spirit lead us to unity? Do we act in a spirit of love and humility?"
Bellingham Friends Announcements
Friends, please contact
M&C
if you plan to come to meeting on Sunday, December 25th (

Christmas Day

) and/or Sunday, Jan 1 (New Years Day)
Since many Friends will be out of town, we may move the location of meeting to someone's home.
Announcements From Committees and Representatives
Children's Program Committee
WISH LIST! Friends asked for a "wish list" to make our Children's Program more wonderful. Wow! Thank you! :-) From CP Committee: 1. Ages 2-4: Duplos or other "baby safe" building toy, a simple wooden puzzle, set of simple dolls. 2. Ages 6-10: More challenging building toy (magnets?), set of small animal figures, 30-80 piece puzzle. 3. Supplies: Michael's or Fred Meyer gift cards. 4. Suggestion from Virginia: From Nat'l Wildlife Federation: Set of 2 games, ages 3 & up: Animal Tracks & Wildlife Bingo, NWF3683 $29.99, 1-800-756-3752. Reminder: Storage is limited! Check with Virginia before and after shopping. Bless you!
KID-SPACE at Explorations: Children's Program is in the classroom off the hallway between the two bathrooms. Two thirds of Children's library is in the credenza to the left as you enter. (The rest of our books are in the CP cabinet.)
Children still get snack in the Commons. Snacks are in the Hospitality cabinet.
Thanksgiving to our terrific volunteer teacher team! We have a new opportunity: adults who will be "support person" for Anna Row when she teaches. Contact Virginia to sign up. Here's our team: Dave (Anna backup only); Dusty Andersen; Rob Dillard; Susan Richardson; Rachel VanBoven; Eric Bablinskas; Kristen McLewin, Jessica Bee, Aurora Fox and Virginia Herrick. Substitutes are Sharon Trent, John Hatten, and Dorothy DeFremery. Thank you all!
Art Days with Aurora: When Aurora is back after double knee surgery (by Dec. 18, we hope!) she'll lead monthly art-only programs.
Dec. 4 - Virginia Herrick
Dec. 11 - Rachel VanBoven
Dec. 18 - Aurora art project: Old (used) Christmas cards needed! 2nd hour: all-ages holiday celebration, by Outreach and Welcoming Committee.
Dec. 25 - Christmas Morning Sunday: We have not heard of any families planning to attend, so no plans for Children's Program. Anna and Dora have the day off, too!
Outreach and Welcoming Committee
The Outreach and Welcoming Committee will be coordinating the

Intergenerational Holiday Sharing 2nd Hour on December 18th

. Contact Wendy Goldstein (360-224-0980 or wbgrateful@yahoo.com) to have your contribution (poetry, music, storytelling, or whatever) added to the schedule, which will also include an intergenerational activity for the whole group, details to be announced later.

Our documents,"

Regular Bellingham Friends Meeting Activities and How to Learn More About Them

"

(recently updated)

and "

A Quaker Glossary

" are both available in hard copy on the greeting table and also by download from the "About Us" page of the BFM website, http://bellinghamfriends.org.
OWC meets next on Saturday morning, December 3rd. All Friends are welcome but please contact clerk Don Goldstein (671-1395 or dnx6309@gmail.com) if you will be joining us.
Spirit Group
Announcement
Next meeting:
Thurs, Dec. 1 , 7 - 9 PM
Friends, please click here to read and/or print the draft of the revised Chapter 4 of NPYM's new "Faith and Practice" which the Spirit Group will continue to discuss over the next several months. See calendar for location and time.
(WARNING - this is a long document (38 pages) - too long to print copies for distribution to everyone. So you might want to bring an electronic copy to Spirit Group or read ahead and take notes. )
The group will discuss
"Peace" (pages 22-26) in chapter 4 of the draft revision of NPYM's "Faith and Practice"

A short article from "Universalism and Spirituality" (copies available from Larry T or Don G)

The future of the group
Social and Environmental Concerns
Concern of the Month
November: Friends donated $70 to the North Cascades Institute. We received this note in reply:
Thank you so much, Joan and the Bellingham friends, for your donation. Glad you appreciate Saul's email after the election. We have so much work to do and I hope the progressive community can continue to band together to make real change on the ground. We're thrilled to have you as a partner to educate, inspire, and transform people of all ages and backgrounds.
Thanks, Jodi
P.S. Was Doris Ferm part of your group? I used to work at Conservation Northwest and she was a stalwart volunteer (and dear, dear soul) there until she passed away.

Standing Rock Updates:

North Dakota governor orders pipeline protesters expelled


Reid to Trump: Reroute Dakota pipeline



BUF offers community for local supporters of the Water Protectors:
THURSDAY, December 1, between 9:00 am & 1:00 pm
WRITE IN/CALL IN/PETITION IN FOR STANDING ROCK
Bellingham Unitarian Fellowship (1207 Ellsworth), Downstairs Social Hall

We all are receiving requests for calling, writing, emailing, signing petitions, marching, contributing, etc. in support of Standing Rock and the Water Protectors. It is overwhelming to focus at home to consistently respond. Therefore, we are offering a "Write In" event to assist you with your commitment to make your voice heard.

We are calling any of you, free for a couple of hours, Thursday, Dec. 1, between 9 am and 1 pm, to come to Bellingham Unitarian Fellowship, to concentrate our efforts, and support each other in the process of focusing our responses. BRING: your laptop, cell phone, a notebook, and a snack to share. Hot water and tea will be available, otherwise bring your own beverage.

Also, Friends - A Heads- Up: 'It's Standing Rock North': Trans Mountain pipeline in Canada stirs strong opposition
Friends Committee on National Legislation (FCNL)
Supporting Spirit-led action in the weeks and months ahead!
Thus reads the large banner on the FCNL building in Washington, DC that faces the United States Senate building. FCNL launched this campaign amidst the divisive election season to encourage positive rhetoric and highlight the value we place on one another. The message is even more urgent today.
Together we can shift the narrative from fear of others to love thy neighbor (no exceptions).
FCNL continues to work with everyone - citizens and your members of Congress regardless of political party or beliefs - to build relationships that lead to long-term policy change. As we seek equity and justice for all, listening and finding common ground is one of the best ways to reduce racism and other forms of discrimination. Please join with FCNL now and for the long haul.
Actions we can take to make a difference:
---
Sentencing Reform! A call for national action in December:
Sentencing Reform Legislation is still possible IF Congress gets back to work and focuses now on bipartisan agreement to change our criminal justice laws. For the thousands of people in federal prison on lengthy, unjust sentences, we can't wait. FCNL is asking the entire national network to meet with members of Congress in your home district in December.

If you are interested in joining our local Advocacy Team (we meet once a month to plan how to lobby our senators and Rep. Rick Larsen, in concert with other FCNL teams nationwide) contac
t
Virginia Herrick
Everything you need to prepare for December lobby visits:
---
Friends Committee for National Legislation
Capital Campaign
FCNL is grateful for the financial support Bellingham Friends Meeting has given, as well as the grass root lobbying and suggestions for the Legislative Priorities.
Now FCNL is asking that BFM and Friends consider making a special, onetime contribution to its Capital Campaign, "The World We Seek: Now is theTime".
For questions, please contact Lorina Hall. FCNL 245 Second St. NE, Washington, DC 20002
2017 Quarterly Meeting Planning Committee (QMPC)
This is an ad hoc (limited term) joint committee including Friends from both Bellingham and Lopez Island Friends Meetings, for the purpose of planning and organizing the adult program for next spring's Pacific Northwest Quarterly Meeting session, to be held April 21-23, 2017, at Lazy F Camp and Retreat Center, near Ellensburg. The session theme will be

"Discerning our Leadings: Worshiping with our Lives."

If you're interested in joining us or just curious about what QM planning involves, contact QMPC Co-clerk Don Goldstein (671-1395 or dnx6309@gmail.com). Next meeting: Friday January 13, 10 am.
Videos and Podcasts for the Quaker Soul
(and this week two poems)
Hope - by Vaclav Havel
Either we have hope within us or we don't.
Hope is a dimension of the soul,
and it is not particularly dependent on some observation of the world
Hope is an orientation of the spirit, an orientation of the heart.
It transcends the world that is immediately experienced
and is anchored somewhere beyond the horizons.
Hope - in this deep and powerful sense —
is not the same as joy that things are going well
or willingness to invest in enterprises that are obviously headed for early success
but rather an ability to work for something because it is good,
not just because it stands a chance to succeed.
Hope is definitely not the same thing as optimism.
it is not the conviction that something will turn out well,
but the certainty that something makes sense regardless of how it turns out
It is hope, above all, which gives us the strength to love and continually try new things.

_____________________________

Click on the images to view or cut and paste the link below the image into your browser.


How Mysticism Informs Quaker Activism


Jennie Isbell explores the mystical experience, and how it has called her into the world to take action. WATCH: http://fdsj.nl/quaker-activism(about 3 min)

___________________________________

The practice of Quakerism doesn't just take place on Sunday morning. Many of us have spiritual disciplines that we carry throughout the week. Patricia McBee explores the Quaker disciplines that address this need.(about 5 min)
http://quakerspeak.com/quaker-spiritual-disciplines/
_______________

"No longer forward nor behind
I look in hope or fear;
But, grateful, take the good I find,
The best of now and here."
- John Greenleaf Whittier
Learning and living in the great outdoors
Learn about raptors in the Pacific Northwest during Dec. 1 talk
Learn about the region's raptors during a presentation Dec. 1 at the Central branch of the Bellingham Public Library. "Raptors in our lives and how to find them" begins at 7 p.m. in the Lecture Room of the library, 210 Central Ave.
Raptor biologist Bud Anderson will give the presentation.
Free event is open to all ages. To read more click

here
__________________________________________________________________
Announcements of Events in the
Wider Community
__________________________________________________________________

December 10



____________________________________________________________________

This is shared by La Jolla Meeting - it is a sign created by the Mennonite Comunity
Join with Immanuel Mennonite Church and print your own yard sign. Download yours here: https://immanuelmennonite.wordpress.com/

____________________________________________________________________

Prayer Vigil for Peace in the Middle East

Bellingham faith communities continue the monthly prayer vigils for peace in the Middle East, which were started in December 2000 at the initiative of the Evangelical Lutheran Church in America and organized nationally by Churches for Middle East Peace.

The following faith communities will host the monthly prayer vigils from
5:30 - 6 PM
on


Dec 18th - watch this space for location
__________________________________________________________________

Friday Peace Vigil - started by Rosemary and Howard Harris
Celebrates 50 years in 2016! Longest continuous peace demonstration in the United States!
When: Every Fri, 3:45pm – 4:45pm
Where: 104 W Magnolia St, Bellingham, WA 98225, USA (map)
Description: The Nation's oldest weekly Peace Vigil. Paricipants gather weekly at 4:00 pm with signs in front of the Federal Building on the Corner of Magnolia and Cornwall Streets.
_________________________________________________

Looking Ahead to Wider Quaker Gatherings
General Meetings - Quarterly and Yearly Meetings and The Gathering
___________________________________________________________
April 21-23, 2017
Spring 2017 session, Pacific Northwest Quarterly Meeting (PNQM)
Theme:
Discerning our Leadings: Worshiping With Our Lives
Where: Lazy F Camp and Retreat Center near Ellensburg WA
Hosted by: Bellingham Friends Meeting and Lopez Island Friends Meeting


For more information, contact Don Goldstein (dnx6309@gmail.com) or click

here

.
_________________________________________________________________
Quaker special events, retreats, workshops, conferences, etc.
_________________________________________________________________
Announcements / Opportunities from Other Quaker Groups
____________________________________________________

Pendle Hill
Offers Quaker Studies Online courses
(as well as amazing on-site retreats and workshops!)
click the link below for more inforamtion about on-line courses:
http://www.pendlehill.org/quaker-studies-online-a-new-pendle-hill-initiative/#.VzkJ-JMrL6A

Pendle Hill Online Course - January 9, 2017 - April 2, 2017
Winter 2017: Exploring the Quaker Way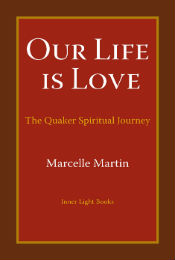 This course, taught by Marcelle Martin and assisted by Steve Chase, runs from January 9 through April 2. "Exploring the Quaker Way" is for seekers, attenders, and interested members of Friends meetings who want to: 1) deepen their understanding of the "unprogrammed" Quaker tradition; 2) better understand the spiritual journey common among early and current Friends; 3) reflect on their own spiritual journeys within this simple, radical, and contemporary spiritual path; and 4) become more familiar with key elements of fostering vibrant and caring Quaker communities. It is designed for people who want to explore these themes through personal reflection, focused study, and deep dialog within a lively learning community gently guided by seasoned Quaker educators and several guest presenters.
>>> Click here for more information <<<

__________________________________________________________

From North Pacific Yearly Meeting
A Call for Art Work
DEADLINE: DECEMBER 31, 2016
The NPYM Committee on the Discipline (Faith and Practice) is issuing a call for art work to be used in the revised volume of our Faith and Practice.
We are looking for black and white images, such as line drawings or block prints. We seek images reflecting Quaker values and the geography and spiritual life of our Yearly Meeting.
An outline of the new Faith and Practice is included below to help with deciding what might fit.
We encourage submissions from all age groups.
You may submit your work electronically to the Faith and Practice Committee, (Discipline_Committee_Clerk@npym.org) or you may send a hard copy to NPYM, Committee on the Discipline, 3311 N. W. Polk Ave., Corvallis, OR 97330
They will also be able to provide guidelines for submissions and other materials to help you.
_________________________________________________________________
Friends General Conference
(Offers many resources including the ones listed below)
Building a deeper spiritual community in your meeting.
_________________________________________________________________
On-line Quaker Meetings for Worship - with two Quaker Groups
On Our Website:
Click to visit website
Metamorphosis
(our monthly newsletter - with feature articles and poetry and much more!)
Back issues of the E-News
(soon to include this one!)