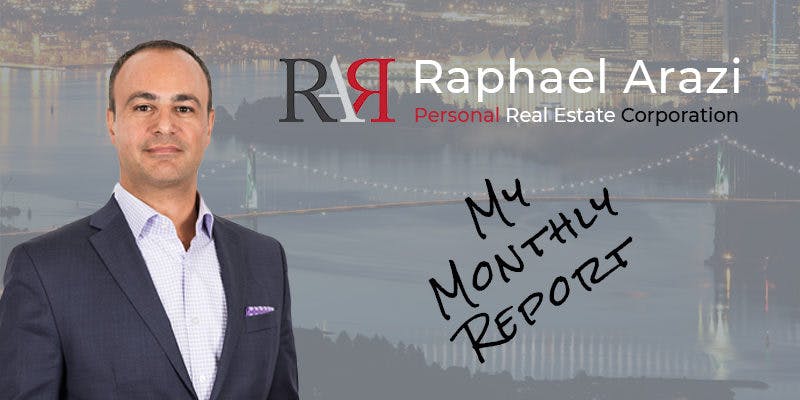 May newsletter
Hello Friend
Welcome to my newsletter. Here you will find the latest real estate news and stats for your area. If you would like more information about market conditions in your community, or have any other real estate related questions, please contact me. I would be happy to meet with you to see how I can help you out.
Reduced demand and increased supply remain the trend across Metro Vancouver's housing market
Decreased demand continues to allow the supply of homes for sale to accumulate across the Metro Vancouver* housing market.
The Real Estate Board of Greater Vancouver (REBGV) reports that residential home sales in the region totalled 1,829 in April 2019, a 29.1 per cent decrease from the 2,579 sales recorded in April 2018, and a 5.9 per cent increase from the 1,727 homes sold in March 2019.
Last month's sales were 43.1 per cent below the 10-year April sales average.
"Government policy continues to hinder home sale activity. The federal government's mortgage stress test has reduced buyers' purchasing power by about 20 per cent, which is causing people at the entry-level side of the market to struggle to secure financing," Ashley Smith, REBGV president said. "Suppressing housing activity through government policy not only reduces home sales, it harms the job market, economic growth and creates pent-up demand."
Click here for the full report.
Decluttering 101: Three Items to Toss
Let's face it, decluttering a household can be an intimidating job. All those little piles of clothing, doohickies, and junk that has been neglected due to your busy schedule can leave you wondering where to start! If you are finding yourself overwhelmed by your cluttered home, tossing these three items is the perfect way to ease yourself into the decluttering process.
Remove the Receipts
When you have purchased a piece of clothing or electronic device that starts to fall apart after a week, there are few better feelings than knowing you've kept the receipt. However, what happens to all those receipts that never end up being used? Well, they sit on your coffee table, or in your junk drawer, or on your kitchen counter—forever. Chances are, most of the receipts that are around your home are probably long expired and hold no further use. Give these receipts a toss for an easy decluttering win.
Clothes You Will Never Wear Again
Everyone has at least a few clothing items buried deep in their closet that haven't been worn in years. Take a moment to go through your wardrobe and give those old items a toss. Whether
they no longer fit, are out of style, or are dotted with holes—they aren't doing you any good taking up precious closet space!
Old Newspapers and Magazines
You swear you were going to get around to reading the latest issue of your favorite magazine, and yet, as weeks turn to months, that magazine sits on your counter joined by other magazines still on your to-read list. If a magazine or newspaper has been sitting for a few months, it is probably worth parting ways. You can always catch up on the next issue!
Greater Vancouver Market Watch - Detached
Stats are calculated comparing April 2019 to April 2018 .
To see more information on local stats in Greater Vancouver, please click here.
Latest Featured Listings
Just Listed
Top floor unit, fully renovated with s/s appliances Boyd Park / R2366209
$499,000
| | | |
| --- | --- | --- |
| 2 Bedrooms | 2 Bathrooms | 1,120 Sq Ft |
View Listing
Sold
Location, Location, Location! West End VW / R2359638
$838,000
| | | |
| --- | --- | --- |
| 2 Bedrooms | 2 Bathrooms | 830 Sq Ft |
View Listing
Sold
SPECTACULAR! NOT TO BE MISSED! Fairview VW / R2363542
$1,398,000
| | | |
| --- | --- | --- |
| 2 Bedrooms | 2 Bathrooms | 1,265 Sq Ft |
View Listing
Sold
quiet west facing corner unit Morgan Creek / R2350157
$449,000
| | | |
| --- | --- | --- |
| 2 Bedrooms | 1 Bathrooms | 752 Sq Ft |
View Listing
Here's the unit you've been waiting for Boyd Park / R2347420
$399,000
| | | |
| --- | --- | --- |
| 2 Bedrooms | 1 Bathrooms | 940 Sq Ft |
View Listing

Copyright © 2019 Raphael Arazi
Raphael Arazi - Sutton Group WestCoast Realty 200 - 5511 West Boulevard Vancouver, BC V6M 3W6 Canada
Unsubscribe
This is not intended to solicit properties currently listed for sale or individuals currently under contract with a brokerage.



Powered by avenuehq.com.
Copyright © 2019 AvenueHQ.