Upcoming Complimentary Live Streaming CME Webinar
Pulmonary Hypertension in Systemic Sclerosis: From Screening to Treatment
Thursday, January 10, 2019
6:00 - 7:15 pm
News from the Scleroderma, Vasculitis & Myositis Center of Excellence
Video: Lenabasum Safe and May Be Effective in Diffuse Scleroderma Patients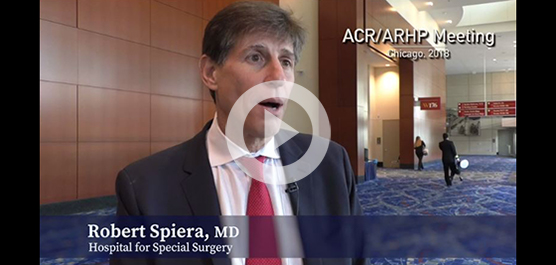 Robert F. Spiera, MD, rheumatologist at HSS, was interviewed at the annual ACR conference by MedPage Today talking about the study on the on the safety and efficacy of lenabasum in diffuse scleroderma patients.

More Reporting from the ACR Annual Meeting
ACR CRISS: A Way Forward for Scleroderma Treatment Trials?
Featuring Robert F. Spiera, MD
MDEdge
HSS Journal®
The Musculoskeletal Journal of Hospital for Special Surgery


Mechanically Induced Periprosthetic Osteolysis: A Systematic Review
Benjamin A. McArthur, MD; Ryan Scully, MD; F. Patrick Ross, PhD; Mathias P. G. Bostrom, MD; Anna Falghren, PhD
HSS eAcademy®
Earn CME credit and access didactic lectures, surgical videos, conversations with experts, and more. HSS eAcademy has curated one of the largest portfolios of on-demand musculoskeletal content with a collection of over 600 offerings reaching participants across the globe in over 130 countries.
CME for Rheumatologists