Academic Presentations from the American College of Rheumatology Annual Meeting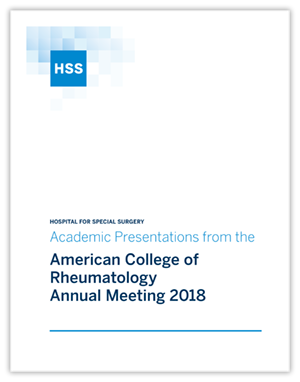 HSS Physician-in-Chief Mary K. Crow, MD, Receives 2018 Presidential Gold Medal

Mary K. Crow, MD, physician-in-chief at Hospital for Special Surgery (HSS), and chief of Rheumatology at Weill Cornell Medicine and NewYork-Presbyterian Hospital/Weill Cornell Medical Center, received the 2018 Presidential Gold Medal presented by the American College of Rheumatology (ACR) during their Annual Meeting in Chicago on October 20, 2018. Read the press release.


VIDEO
HSS Minute: ACR Presidential Gold Medal
ACR Presidential Gold Medal Recipient Shares Female Influencers, Role Models
HEALIO.com
Grand Rounds from HSS: Management of Complex Cases

Hypergammaglobulinemic Purpura of Waldenström
Jonathan T.L. Cheah, MBBS, and Theodore R. Fields, MD, FACP

Polyglandular Inflammation Following Immunotherapy for Metastatic Renal Cell Carcinoma
Kimberly Showalter, MD, and Anne R. Bass, MD

Systemic Lupus Erythematosus and Severe Preeclampsia in Pregnancy
Sarah B. Lieber, MD, and Michael D. Lockshin, MD

Pancreatic Disease, Panniculitis, and Polyarthritis Syndrome: Initial Manifestation of Acinar Cell Carcinoma
Sebastian E. Sattui Cortes, MD, and Steven K. Magid, MD
HSS Journal®
The Musculoskeletal Journal of Hospital for Special Surgery


NEW TO PUBMED CENTRAL
Immunoglobulin G4-related Aortitis: A Clinical Pathology Conference Held by the Division of Rheumatology at the Hospital for Special Surgery
Ozan Unlu, MD; Elizabeth Schulman, MD; Steven D. Wolff, MD, PhD; Navneet Narula, MD; John H. Stone, MD, PhD; Anne Bass, MD; Doruk Erkan, MD, MPH

Call for Manuscripts
Rehabilitation: An Essential Component of Care in Musculoskeletal Health
HSS eAcademy®
Earn CME credit and access didactic lectures, surgical videos, conversations with experts, and more. HSS eAcademy has curated one of the largest portfolios of on-demand musculoskeletal content with a collection of over 600 offerings reaching participants across the globe in over 130 countries.
CME for Rheumatologists
On-demand Modules from Assuring the Best Outcome for Your Patients with Early Rheumatoid Arthritis Webinar
Latest Research & News

New Avenue Identified for Attacking Diseases of the Bone
microRNA-based therapeutics may one day help treat bone loss seen in diseases such as osteoporosis and rheumatoid arthritis, according to new research published this week in Nature Communications.
Featuring Baohong Zhao, PhD

HSS Researchers Launch Clinical Trial to Determine if Popular Stem Cell Therapy Can Protect Damaged Knees from Osteoarthritis
Featuring Andreas H. Gomoll, MD

Jillian Rose Receives Distinguished Educator Award from Association of Rheumatology Health Professionals
Featuring Jillian Rose, LCSW, MPH