October Newsletter
We launched our fall subscriber drive this week. Chip in today to keep The Urbanist strong. With your support, we can cover more stories and expand our advocacy and educational programming. The Puget Sound region needs a clear voice for sustainable urbanism, and we're happy to fill that role. Our twice annual subscriber drives are the top way we pay our bills and support our dedicated staff.
We'd love to see you at our fundraiser Tuesday Oct 4th from 5:30pm to 7:30pm in Capitol Hill. Details and RSVP here. Minimum donation suggested is $75. Featured guests include King County Councilmember Girmay Zahilay, climate reporter Dave Roberts, Executive Director Kelli Refer of Move Redmond, and former State Representative Brady Piñero Walkinshaw.

We also are returning to our virtual meetup format after our summer break. Join us for our October Meetup with Darya Farivar on Tuesday October 11th at 6:25pm. The election is coming up fast and Farivar is our endorsed candidate in LD46 for an important open House seat. Learn more about her platform and get your questions answered at the event. Our General Election guide will drop later this month. (See our Primary Endorsements here.)

And now on our top stories of the last month.
Snohomish County Leadership Group Squashes Alternatives to Paine Field Light Rail Routing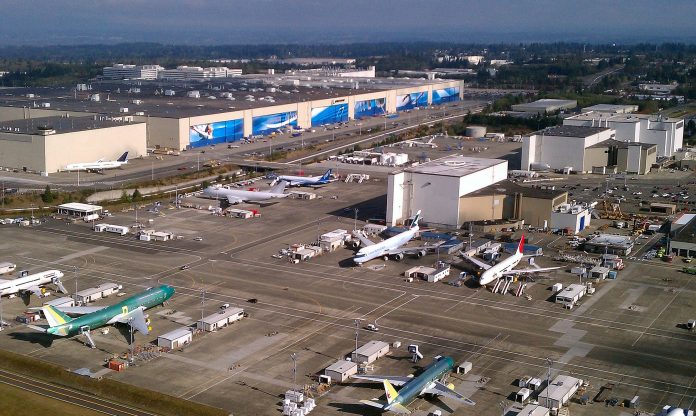 County Executive Dave Somers steamrolled opposition and led a vote to make a longer, more expensive routing to Boeing and Paine Field the only Everett Link option.
In June, The Urbanist reported that Sound Transit had added two new alternatives to its study of the Everett Link light rail extension options, hoping the more direct routes might offer options that could open sooner due to their lower expected cost. On Wednesday, the Elected Leadership Group (ELG) charged to represent Snohomish County residents voted to summarily remove the SR 99/Evergreen Way and I-5 alternatives from consideration before any in-depth study could be done.
Snohomish County Executive Dave Somers argued that most of the opposition to the alignment was coming from King County and implied there was almost no valid criticism from his own constituents.
"The idea of greatly cutting back the Snohomish County portion of the Sound Transit system is quite maddening and offensive," Somers said at the meeting. "We're spending time and energy fighting amongst ourselves, and it really needs to stop here, and I'm going to recommend we pull the SR 99 and I-5 alignments. If we keep those two options alive, we're going to talk about shrinking our system to the benefit of folks south of the border, frankly."
Snohomish County Councilmember Megan Dunn, whose District 2 includes most of the Everett Link project area, saw it differently and was the only ELG member against Somers' motion in an acclamation vote that decided the fate of Everett Link.
"It's really critical that we're allowing communities to speak for themselves, and I'm hearing from residents in Everett and in this area that are opposing this idea and would like more information," Dunn said. "We need the data and the studies which shows which option is best. Which one has the best ridership? Which one has the best dollars per mile? Which one has the biggest impact on climate change?"
Barring pushback from the Federal Transit Administration or some sort of tectonic shift in local politics, the ELG's voice vote appears to assure that the Paine Field routing will be a reality, locking in place multi-billion-dollar transportation infrastructure for many generations to come without seriously studying alternative alignments that may perform better... Continue reading article by Doug Trumm.
Seattle City Council Gets the Future of Third Avenue Back On Its Radar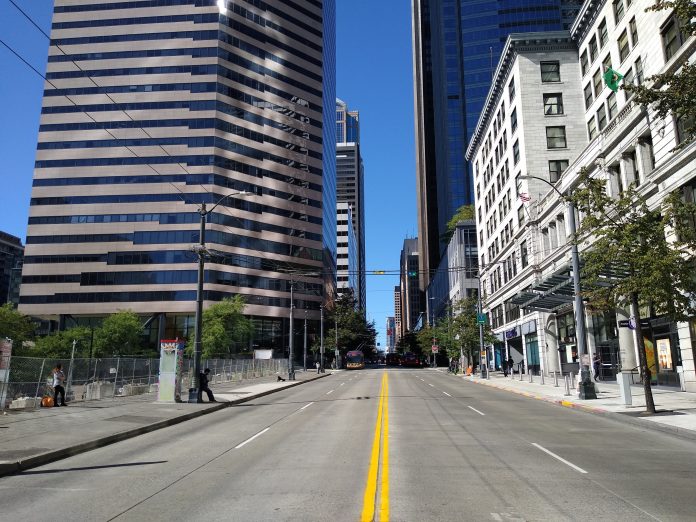 Seattle's Third Avenue is arguably one of the most successful transit corridors in the entire country. The street consolidates most Seattle bus routes into one corridor that ensures ease of transfers and creates a system that's easy for visitors to the city to understand. Prior to the pandemic, Third Avenue saw the highest number of buses of any single bus corridor in the entire country and was also near the top for ridership at around 52,000 bus passengers per weekday.
But Third Avenue has been plagued by problems as well. The sidewalks are relatively narrow for a transit mall, leaving very little room for improvements to the public realm that aren't directly related to transit access. The street has also been long associated with crime. The City of Seattle's cyclical approach to crime in Downtown, long relying on a regular crackdown on "hotspots," has failed to put a stop to persistent problems along the corridor for decades, and these actions have impacted on transit users' experience on Third Avenue. For example, one of Mayor Bruce Harrell's first acts in office was to close a highly used bus stop along the corridor to "increase visibility into criminal activity," according to the mayor's office.
Improving the street has long been a goal of the Downtown Seattle Association (DSA), which commissioned a report in 2019 that came back with several recommendations for how the corridor could potentially be revamped. That effort is now being resurrected, with the Seattle City Council's public assets and homelessness committee considering a resolution this week that would kick start the conversation again.
"It really hasn't recovered as a street since the cut-and-cover, original transit tunnel was dug through and under Third Avenue in the early '90s," Jon Scholes, president of the Downtown Seattle Association, told the committee.
When the Downtown Seattle transit tunnel was completed in 1991, a pedestrian mall had been envisioned on Third above the tunnel but instead vehicle traffic remained, both buses and general purpose traffic. By the late 1990s, discussions began around creating a transit-only street to make way for frequent rail transit in the tunnel, but it was nearly another two decades until bus traffic finally exited the transit tunnel and was routed onto surface streets, including Third, putting the number of daily bus trips on the street at its highest level... Continue reading article by Ryan Packer.
Harrell's SDOT Budget Pauses Thomas Street Safety Project, Keeps Center City Streetcar Alive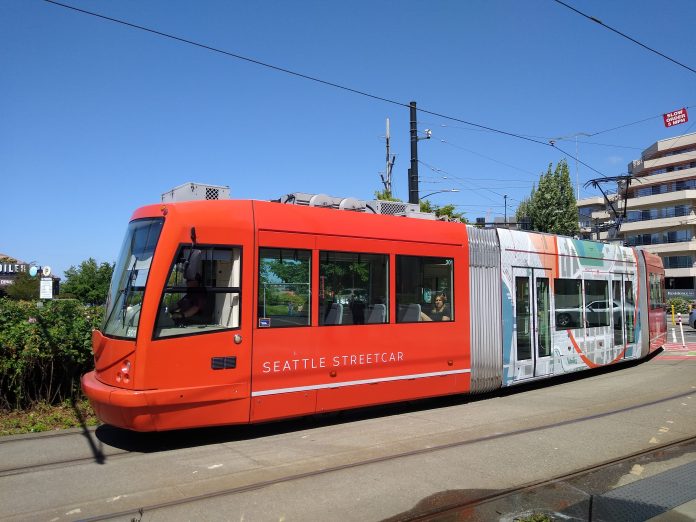 Mayor Bruce Harrell's first proposed budget for the Seattle Department of Transportation (SDOT) is undoubtedly the biggest window into how the nine-month-old Harrell administration views and prioritizes transportation issues. With the release of that proposal this week, all signs point toward an administration largely interested in keeping things headed in the direction they were when the mayor took office, with few sweeping initiatives or new projects.
For the 2023 budget, revenue forecasts are causing the biggest constraints on the budget. Earlier this week, The Urbanist detailed how revenue into the city's general fund continues to come in lower than expected, causing the Harrell administration to propose a $95 million infusion from the JumpStart payroll tax, which had been safeguarded and dedicated specifically to housing and new Green New Deal investments. SDOT's revenue stream of the city's Commercial Parking Tax is contributing to that revenue gap, with fewer people driving and parking in off-street garages and lots, which are mostly Downtown.
For next year, the biggest change in SDOT's budget is largely on paper: the decision to cancel the move of the Seattle Police Department's parking enforcement unit into the city's transportation department and keep it within SPD. In the past few years, SDOT has taken steps to scale back its partnering with SPD on traffic enforcement, cancelling a planned set of emphasis patrols focused on pedestrian safety. Instead, the department has been expanding its automatic enforcement, adding additional schools to areas where speeds are enforced at school start and end times. But the move to keep the parking enforcement unit inside SPD signals that the Harrell Administration might not be aligned with that move away from relying on armed police to enforce traffic laws.
In addition to revenues coming in lower than the city might like, a number of SDOT projects are being hit with cost increases caused by inflating costs for construction. This includes one of the department's biggest street overhauls, the planned revamp of East Marginal Way, as well as the continually on-the-horizon project to complete the Burke Gilman Trail through Ballard. These costs increases are limiting the administration from taking on new projects of its own, though there are some exceptions to that. It's also caused some projects to be cut from the budget.
Seattle's first protected intersection put on hold, again
With its proposed budget for next year, the Harrell Administration puts back on hold a project that has been years in the making, a complete revamp for the Thomas Street corridor in South Lake Union. Intended to take advantage of the new pedestrian connection across the former Aurora Avenue highway, now 7th Avenue N, "Thomas Street Redefined" is focused on creating a walking and biking corridor to connect to Seattle Center that will turn the street into a gateway to the civic space that people from around the city utilize year round.... Continue reading op-ed by Ryan Packer
Fall 2022 Transit Service Changes Should Raise Alarm Bells For Electeds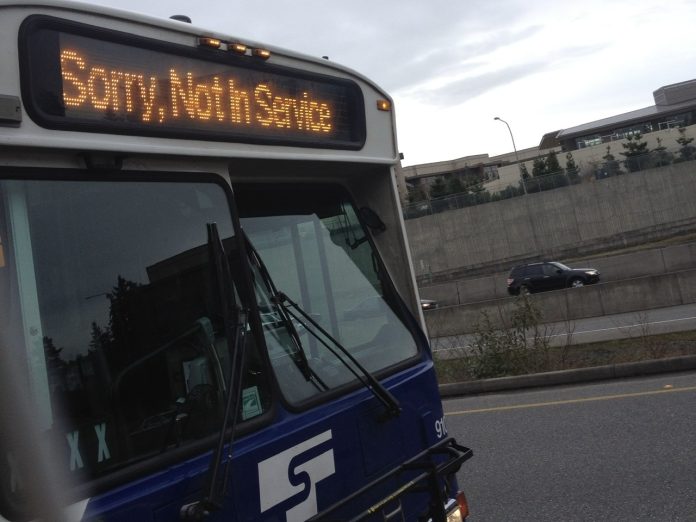 Local transit agencies in Puget Sound have begun to release their fall service change details. Service is being slashed on a wide range of routes because transit agencies are hemorrhaging operations staff at an alarming pace, which should be raising alarm bells in the minds of elected officials. With no end in sight, those agencies are cutting back service to reflect staffing levels that they do have — despite being very flush with equipment and cash to support much higher levels of service. The cuts are hitting bus operations especially hard.
For months, we've been documenting the changing staffing levels at local transit agencies to gauge where things are headed. The general trend has been fewer and fewer bus operators, but this has been particularly problematic at King County Metro — far and away the largest transit operator in the region. That has meant increasing unreliability on Metro and Sound Transit bus routes. Adding to the pain is the occasional shutdown of Link service where special shuttle buses have had to be pulled into service by Metro to bridge the gaps.
Despite our intrepid reporting, local elected officials at Sound Transit and King County have eschewed any public discussion about declining service levels and the operator crisis at hand. In fact, beyond passing mention by agency staff of ongoing operator shortages, there hasn't been a single discussion of how to address this problem at Sound Transit board meetings this summer and King County officials have repeatedly cancelled transit-related committee meetings over the past couple of months and are apparently cancelling another one this month. It beggars belief that a growing regional crisis of this magnitude could go on without critical attention by elected officials, but here we are... Continue reading op-ed by Stephen Fesler
Seattle Redistricting Commission Votes to Unify Magnolia in D6, Split Fremont into Three Districts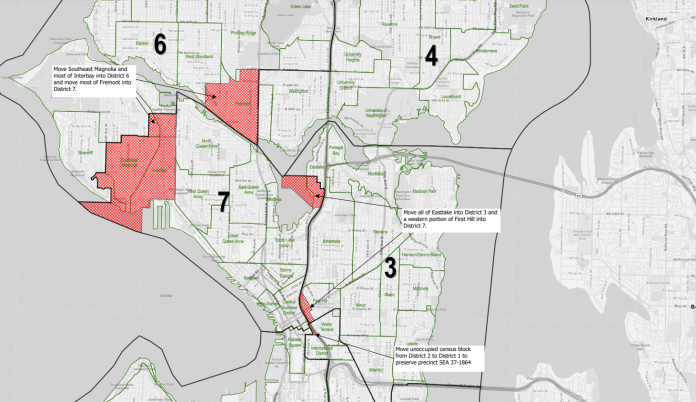 Seattle City Council district boundaries must be adjusted to rebalance population levels ahead of 2023 elections, and just how to accomplish that is proving quite controversial. The Seattle Redistricting Commission first joint map proposed to send part of Magnolia to District 6 — a move intended to bring down the population of District 7, the most overpopulated district by far following the 2020 Census.
Splitting Magnolia between D6 and D7 earned the ire of a vocal contingent of neighborhood residents, and that backlash pushed Commissioner Rory O'Sullivan to propose a map moving all of Magnolia and Interbay into District 6 and sending most of Fremont and a slice of First Hill to D7 to balance population levels. It also consolidated the Eastlake neighborhood in D3. The O'Sullivan's amendment earned the support of his colleagues yesterday in a 4-1 vote, with only Commissioner EJ Juárez opposed.
"I'm uncomfortable moving forward and voting on a proposal that a community has not had adequate time to provide input, especially when we're splitting a neighborhood [Fremont] into three districts, which something we don't do in any other place in this map," Juárez said ahead of the vote. "I'm struggling with why we are choosing to split one neighborhood again with no real reason. I don't understand the introduction of a Fremont split… I have not heard a compelling reason."
Juárez also pointed out that this was a significant departure from the Redistricting Justice for Washington Seattle maps that had the most positive comments throughout the process, which is why the commission's initial proposal had largely been based on that map. O'Sullivan had contended that the racial justice focused organization hadn't lodged any specific complaints against the revision in public comments to start the meeting, but Juárez countered that wasn't the same as consent or favoring this revision to their map... Continue reading article by Doug Trumm
Take a Sneak Peek at Six New Parks Coming to Seattle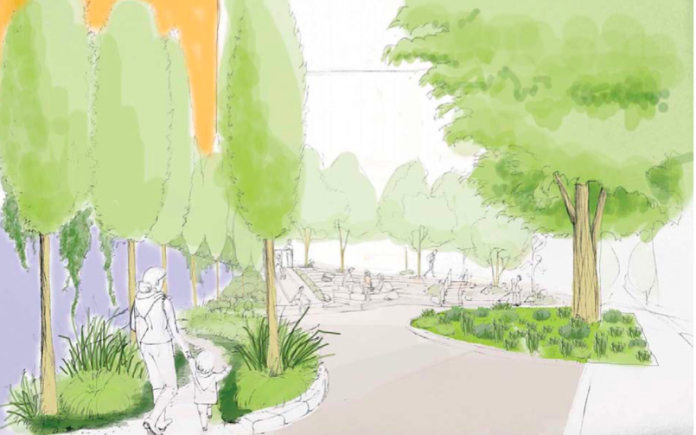 On September 27th, the Seattle City Council, which serves as the Metropolitan Park District Board, passed its funding plan for 2023-2028 in a 8-1 vote, with Councilmember Alex Pedersen (District 4) casting the lone dissenting vote. While a few new amendments were approved before passage, the spending plan as a whole remained very similar to the latest package assembled by Councilmember and Park District Chair Andrew Lewis (District 7). The most notable amendments include funding for the Garfield Superblock in the Central District and two oversight amendments, the first to track performance data related to the controversial Park Ranger program and the second to increase accountability around spending for capital improvement projects.
As mentioned in previous reporting by The Urbanist, Lewis' spending plan was slightly more expensive than the plan presented by Mayor Bruce Harrell and addressed some community priorities that had come up during public outreach such as increasing equity in parks projects and creating new off-leash areas for dogs. Overall, the spending plan doubles the typical annual Parks District property tax assessment for the median home value from $155 to $343 in the first year, which may leave some Seattleites wondering what they will receive in return. From year-long access to all park bathrooms, to climate resilient updates to community centers, there are a lot of changes headed to Seattle's parks. One of the most exciting developments, however, is the new parks that will be created as a result of the plan.
In total, the funding plan will pay to fully develop four new parks and fund Phase 1 development, which encompasses community outreach and design planning, of two additional parks. Let's take a tour of these new parks headed to neighborhoods across Seattle.
Fully funded new parks
The new parks that will receive funding as a result of the plan include: Terry Pettus, Lake City Floodplain, Cayton Corner, and Gateway Park North. All of these parks will be located on city owned land that is currently undeveloped or in need of redevelopment... Continue reading article by Natalie Bicknell Argerious
The Sonics Are Returning, but Seattle's Not Ready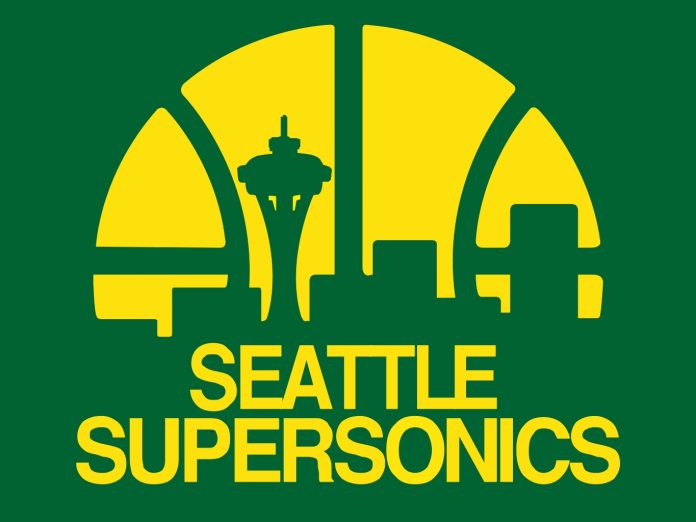 At every sideways breath of NBA Commissioner Adam Silver, Seattle fans expect news of men's professional basketball returning to the nation's upper left. Like gleaning divine words of prophets from on high, these orange ball prognosticators parse signs from each cloud and beer spill, hoping they portend imminent return of Supersonics basketball.
The most recent alignment of planets includes television contracts and preseason games and Las Vegas construction schedules that appear to point at the Sonics emerging anew sometime in late September or early October. The NBA would like more television markets represented as it goes into a new media agreement in 2024-2025. Seattle's new Climate Pledge Arena will be hosting pre-season games on October 3 between the Trailblazers and the Clippers. A new basketball ready arena is being built in Vegas by the Oak View Group, the folks who renovated Seattle's arena.
Everything's coming together. Perhaps. But is Seattle ready?
They left us
Men's professional basketball abandoned Seattle in 2008. Just like Starbucks drops any pretense of social responsibility once a store tries to unionize, then-Sonics-owner Howard Schultz ran screaming from community and team history once faced with a buyout offer from the lucrative corporate backwater of Oklahoma City. It was an abdication of civic responsibility that Schultz has spent multiple self-serving memoirs justifying. People don't forget that kind of rejection.... Continue reading article by Ray Dubicki
Events
Subscribe to The Urbanist

Please become a subscriber to support our work and expand our coverage and advocacy.

"The journalists at The Urbanist demonstrate their hope for our cities by asking the right questions and making ideas, policy and advocacy accessible. Simply put, The Urbanist makes Seattle and Washington better. Let's show them the support they deserve. I'm proud to chip in for The Urbanist's essential reporting, and I hope you will, too." -Crystal Fincher, host of Hacks and Wonks