Please join CommunityGrows in celebrating 20 years of serving San Francisco youth! On Wednesday, November 5, 2014, we will host our 1st Annual Harvest Dinner - an exclusive, intimate meal
at one of San Francisco's iconic restaurants, Greens at Fort Mason.
Our Harvest Dinner kicks off our fall fundraising efforts - this the perfect opportunity to enjoy a wonderful meal while showing your support of underserved San Francisco youth. Proceeds will fund our mission of helping high-needs youth in the Western Addition acquire the necessary skills to live a healthy life through garden education, nutritious cooking and eating, and green jobs training.
Attendees will have the opportunity to learn more about CommunityGrows, including our beautiful gardens located throughout San Francisco and our work with local youth. There will be presentations by Executive Director Barbara Wenger, Wendy Johnson, author of Gardening at the Dragon's Gate, and graduates of CommunityGrows' BEETS (Band of Environmentally Educated & Employable Teens) program. The event will run from 7-10 p.m. Parking is available in the Fort Mason lot.

We will also be raffling off a gift packages which includes an Eco-Tour and tasting for four at Honig Vineyward and Winery, dinner at Boogaloos restaurant, Bi-Rite gift certificates, Blue Bottle coffee and much more! There is no need to be present to win, so if you are unable to attend the dinner, please consider purchasing a raffle ticket (or five!). A full list of items will be available shortly.

Greens Restaurant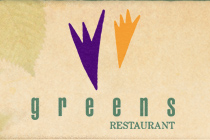 Greens Restaurant opened in 1979 as part of San Francisco Zen Center, which includes Green Gulch Farm and Tassajara Zen Mountain center. Located at historic Fort Mason Center, in a former cavernous machine shop, Greens overlooks the San Francisco Marina with views of the Golden Gate and Marin Headlands. The affiliated Green Gulch Farm provides much of Greens' produce year round, but Greens also draws on an extended family of local growers and organic farmers' markets for its ingredients. The food is fantastic and Community Grows could not ask for a better partner. Led by the renkowned Annie Somerville (the executive chef since 1985), Greens has elevated organic, local, and vegetarian-based cuisine for over 30 years.