---

Stay Informed

---
---

Make Sure YOU VOTE!

AND

Support Others to Exercise their Voting Rights!

Voting is a fundamental right, privilege, and duty. It is a key means by which citizens, including those with disabilities, can impact policy at the local, state, and federal levels. Yet, many people with disabilities continue to encounter obstacles to voting. People with mobility disabilities may encounter physical barriers at their local polling places. People with sensory disabilities may encounter communication barriers in the registration and voting process. People with intellectual, cognitive, or mental health disabilities may be barred or intimidated from voting based on prejudice and misunderstanding about their right to vote.

Due to COVID-19, voting may be harder for all of us this year.
May 26th is the last day to apply for the mail-in ballot. Apply for a mail-in ballot here. If you plan to vote in person, check the status of your polling location - some polling places have been changed. Find your polling place here. Visit website at votesPA.com to conveniently update your registration or apply for a mail-in ballot. For more information on the new mail-in ballots and all things related to voting in Pennsylvania, call the Department of State's toll-free hotline at 1-877-VOTESPA (1-877-868-3772) or visit votesPA.com.

If you are a person with a disability and have a problem with this year's election, contact the Disability Rights Pennsylvania Voting Hotline at 1.800.692.7443, Extension 401.
Find more information about Voting at DRP's Website here.
---
COVID-19 Updates & Resources

Intellectual Disability Residential Providers: Complete the DOH SURVEY about the Testing for COVID-19 Environment: The PA Secretary of Health released a letter clarifying a testing strategy for licensed residential programs. Find information about the strategy here. The Office of Developmental Programs is encouraging all Residential and Intermediate Care Facility Providers to review the letter and to participate in the testing survey. A link to the survey can be found here. Gathering this information is key in to understand the testing needs of our long term care and residential services systems. DUE BY MAY 26th, 2020.


New emergency programs in Pennsylvania
The state is trying to help more Pennsylvanians during this pandemic through new emergency programs:
Check out The Arc of Pennsylvania's Website here for additional resources.
Updated resources are added as they become available.
---
National News
The Count Continues! Are you Counted?
The Census Bureau has identified people with disabilities as a hard-to-count population, which means they are at a greater risk of being under-counted in the census. A fair and accurate census is vital for people with disabilities—and, indeed, for every person in the United States. More information here.
---
Pennsylvania News
Office of Developmental Program Updates
532 individuals have a confirmed diagnosis of COVID-19. (There are about 55,000 people receiving home and community based services.)

93 individuals with a confirmed diagnosis of COVID-19 have died.

914 staff have a confirmed diagnosis of COVID-19.

0 (out of 684) individuals living in a state center have been diagnosed with COVID-19, at this time.
Source: Office of Developmental Programs COVID-19 Report, May 13, 2020.
US Department of Education Approves PA'"s Application for Funding Relief
The US Department of Education (USDE) approved Pennsylvania's application for the commonwealth's share of COVID-19 relief funding for schools in the CARES Act. The CARES Act will provide $523.8 million to Pennsylvania through the Elementary and Secondary School Emergency Relief Fund (ESSER). At least 90%, or $471 million, of this funding must be given directly to Local Education Agencies (LEAs) --school districts and charter schools. School districts will receive $400 million and charter schools will receive $71 million. Click HERE to see the funding allocation each school district/charter school will receive.
Department of Aging Receives $3M to Support Aging and Disability Resource Centers
The Pennsylvania Department of Aging's Aging and Disability Resource Centers Office has been awarded $3 million from the Department of Health and Human Services' Administration for Community Living to support efforts to mitigate and respond to the COVID-19 pandemic. The ADRC, also known as the PA Link to Aging and Disability Resources, is a statewide program that provides information and referral services to older adults and individuals with disabilities. This program helps individuals with activities of daily living by connecting them with medical and non-medical supports and services. Consumers, family members, caregivers and providers, can contact the PA Link through the helpline,1-800-753-8827, or at www.aging.Pa.gov/local-resources/pa-link.

Updated Guidance on Medical Assistance Transportation (MATP)
The Department of Human Services has issued updated guidance regarding the Medical Assistance Transportation Program (MATP) in light of the COVID-19 public health emergency. This guidance is available here. A consumer-facing notice is available here.
Legislative Updates (From Katie Yost)
Representative Tom Murt has circulated a co-sponsorship memo on the need to implement enhanced rates to aid providers who support Pennsylvania's Intellectual/Developmental Disability and Autism Community. The Department applied for the enhanced rates under the Appendix K amendments to respond to the impact of the COVID-19 crisis on the Disability community. The enhanced rates were approved; however, they have not yet been implemented.

House Bill 1363: Representative Murt has introduced legislation that would establish a Bill of Rights for Individuals with Intellectual Disabilities or Autism. This legislation affirms that individuals with intellectual disabilities or autism have full rights to enjoy the opportunity to live and participate in their homes and communities; independently make choices about their lives; contribute to society; and experience full integration and inclusion in the mainstream of society in this Commonwealth. This legislation requires the Department of Human Services to develop and submit a plan to address the waiting list for community based services for people with intellectual disabilities or autism. The Department is required to conduct public hearings and obtain public comment from individuals with intellectual disabilities or autism, their families and guardians and providers of services to the intellectual disability and autism community. The Legislation was voted out of the House Human Services Committee. The bill was passed in the House and will be sent to the Senate for consideration.

House Bill 1827: Representative Keefer's legislation to amend the Crimes Code to provide for heightened criminal sentencing when a person aids or assists another individual who is under 18 years old or has an intellectual disability to commit suicide was amended to also include an individual who has Autism. The legislation has been recommitted to the House Appropriations Committee.

House Bill 2056: Representative Struzzi introduced legislation that would amend the Criminal Code to state that an individual who intentionally causes bodily injury to a person with a physical or intellectual disability is guilty of aggravated assault, a felony of the second degree. The Bill was amended by Rep. Dan Miller to now include an individual with an autism spectrum disorder. The original version of the legislation had autism listed under an intellectual disability. The bill has been recommitted to the House Appropriations committee. The bill has passed in the House and will be sent to the Senate for consideration.

House Bill 2408: Introduced to address the impact of COVID-19. The legislation would exempt the Recovery Rebate Payments under the CARES Act from State and Local Taxes. The bill is now in the Senate and has been recommitted to the Senate Appropriations committee.

Take Action & "Learn More" Opportunities

It's Time for the Senate to Act!
#WeAreEssential: Tell Congress to Include the Disability Community
in COVID-19 Relief Bills!

Congressional leaders continue work on another COVID-19 package that could be voted on this month. The Arc's priorities for that measure are:
Grants to support access to home and community-based services (to minimize the risk of people with disabilities being forced into institutions) and to support the direct support professional (DSP) workforce
Personal protective equipment for DSPs
Paid leave and sick days for family caregivers of adults with disabilities
Economic impact payments for all people with disabilities, including adult dependents
Support Professionals: #WeAreEssential
We are fighting every day to make sure the critical needs of people with disabilities, their families, and the direct support professional (DSP) workforce are included in the next coronavirus relief bill.
And we need your help!
From home and community based services, minimize the risk of people with disabilities being forced into institutions, paid leave for all caregivers, personal protective equipment for the vital Direct Support Professionals workforce, and stimulus payments for all - our essential needs must be included.
What matters most to you and why? Share YOUR story with The Arc and send a personalized message to your Members of Congress by answering 3 short questions!
Then, help spread the word: send this email to three friends and ask them to share their story too. For the latest information about the disability community and the coronavirus pandemic, visit thearc.org/covid.
Thank you for your advocacy!
The Arc PA Releases New E-Learning Module -
"Help for Parents with Children Learning from Home"
Great resource for parents with children learning at home. It has ideas and tips for families! At the same website, you can find links to Storytime with Miss Jennifer Live on Facebook Fridays at 11 am- a fun activity for families with young children. You can also view past recordings.


Find e-learning module

here

.
Find Miss Jennifer Live on Facebook

here

.


PaTTAN Resources for Families and Educators - The PA Training and Technical Assistance Network (PaTTAN), in collaboration with the Bureau of Special Education, created a website of resources for families and general educators supporting complex learners at home during the Covid-19 pandemic. The website will be updated periodically, so families and general educators are encouraged to check back routinely to access additional resources. Click here for more information.

Read the PA Housing Finance Agency (PFHA) Housing Study - Housing affordability is a growing issue for Pennsylvanians, and renters, low-income households and minorities are disproportionately burdened by housing costs, according to a study shared by the Pennsylvania Housing Finance Agency. The Pennsylvania Comprehensive Housing Study, produced in collaboration with the University of Pennsylvania Department of City and Regional Planning, explores the current status and predicted trends for housing statewide. Access the full study here.

Webinar Series - Know Your Rights in the Criminal Justice System. (May 19, June 4, June 17th). Questions about this webinar series? Email nccjdinfo@thearc.org.
May 2020: Communication Matters Training Opportunity -
Communication is foundational and forms the basis of our interactions. Having effective communication, both as the expressive communicator and the listener, shows respect and value of the other person. ODP will be holding four virtual sessions that will include information surrounding the complexity and importance of communication. Attendees will leave with strategies and tools to better support those with complex communication needs.
To Register, please click on one of the following available sessions:
May 19th from 11:00am-2:00pm
May 22nd from 12:00pm- 3:00pm
May 27th from 12:30- 3:30pm
*May 28th from 9:00am- 12:00pm *This session will be available in English and American Sign Language

New Date and Time: May 29, 1:00 PM – 2:00 PM - Virtual Targeted Training. VTT - Using Ecological Inventories to Support Skill Building During Transitions. An ecological approach to assessment helps to uncover the skills critical for success in an individual's desired work, play and living environments. This training will discuss the process and provide examples and tools for goal development and practice during times of transition. Using Ecological Inventories to Support Skill Building During Transitions Recording
PodCast- Services and Supports from Local Agencies: In conjunction with the Office of Long Term Living, the Office of Vocational Rehabilitation, the PA Youth Leadership Network, and PaTTAN, ODP recorded a podcast/video updating the field on the services and supports from local agencies available during the pandemic. YouTube Link here.

CPS Assessment Tool COVID-19 - Friday, May 29, 2020, 11:00 am - 12:00pm - The Office of Developmental Programs invites stakeholders to join Deputy Secretary Kristin Ahrens and Director of the Bureau of Supports Sheila Theodorou for a webinar to review the soon to be released Community Participation Supports Tool. REGISTER
PATF Loans Can Help with Telehealth, Remote Work and Education, and Other Needs During COVID-19 - This pandemic has had a huge impact on the way many people are using and relying on technology. If you have new assistive technology needs, whether for telehealth, working or learning remotely, connecting with family and friends, or otherwise, PATF can help. PATF serves Pennsylvanians of:
All Ages

All Income Levels

All Disabilities/Health Conditions
No fees

Low or no interest, depending on the loan amount

Flexible terms based on the life of the device
Learn More...
What is Mindfulness? Have you been hearing the word "mindfulness" a lot lately? Us too, but it feels like a misunderstood concept. Some see mindfulness as a new-age and serendipitous approach that lacks substance, while others see it as a solution to every problem. In practice, mindfulness is a wonderful tool based on decades of research that doesn't necessarily solve problems but removes barriers from thought processes that might inhibit problem-solving skills. Read Full Article

Being Present - With all the changes in day-to-day responsibilities and competing priorities, many of us may be multitasking to get things done. But the reality is that multitasking may affect your ability to support people effectively. When supporting individuals, be it in person or remotely, it is crucial that we are present and giving them our undivided attention and support. Read Full Article

What is the Census? The United States Census 2020 is occurring NOW and it is important for everyone to take the time to participate. The Census is a survey and counts everyone in the United States and asks questions about each person in each household in the country. One person from each home answers the questions. The Census happens once every ten years. Read Full Article

Effective Environmental Cleaning Despite Pennsylvania moving to the yellow phase in many counties, it remains important that we stay vigilant with our environmental cleaning to decrease risk for exposure to COVID-19 as more people start to share private and public spaces once again. Read Full Article

Work/Life Balance - For many of us, working from home has become the new normal. It is important that we establish routines that prioritize a work/life balance to maintain our mental health and productivity. This means more than just following basic work from home rules like creating a designated workspace and creating a work schedule to keep boundaries. Read Full Article



Being Creative -

For those of you who may not have been inspired into action by last week's staying active article, perhaps something a little more creative may spark your interest. Art challenges are another great way to stay engaged, connected, and creative during COVID-19. Read Full Article

Importance of the 2020 Census - The 2020 Census is underway. Why is this important for people with disabilities? The government needs an accurate count of who is living in communities in an effort to know how much money the community needs like services and programs for people with disabilities. Read Full Article

New CDC Guidance on Quarantine, Isolation, and Critical Infrastructure - The Centers for Disease Control and Prevention has issued new guidance regarding the difference between quarantine & isolation, and critical infrastructure for public health safety and community well-being. Read Full Article

#ASDNext - Today we want to highlight a wonderful resource for teens and young adults on the Autism Spectrum, #ASDNext. #ASDNext is an initiative of the Autism Services, Education, Resources and Training (ASERT) Collaborative. #ASDNext was conceived to help fill the growing need for resources and support to help teens and young adults with autism transition to "adult" life after school. Read Full Article

DOH Interim Guidance: The Pennsylvania Department of Health has issued interim guidance on discontinuing non-healthcare isolation for persons with COVID-19. Read full article

Doing What Matters in Time of Stress - Newly released resource from the World Health Organization (WHO). Doing What Matters in Times of Stress: An Illustrated Guide. Read full article

Message to Nurses from Secretary Teresa Miller - Pennsylvania Department of Human Services (DHS) Secretary Teresa Miller would like to thank all nurses for their dedication during the COVID-19 outbreak. Read full article. ODP joins the nation in applauding the contribution of nurses. Read full article

A Message to DSPs from Governor Tom Wolf - Pennsylvania Governor, Tom Wolf, would like to thank all direct support professionals for their dedication during the COVID-19 outbreak. Read full article

Personal Protection Equipment Resources - With an international shortage of Personal Protective Equipment (PPE), it has been difficult for many providers to acquire these resources during this crisis.
Read full article

Back Into the Community: Who to Listen to and What to Trust - With consideration for re-integrating into the community, it can be hard to figure out what information is correct. Read full article

Mental Health Supports - Having support during a mental health episode can be life-saving. Read full article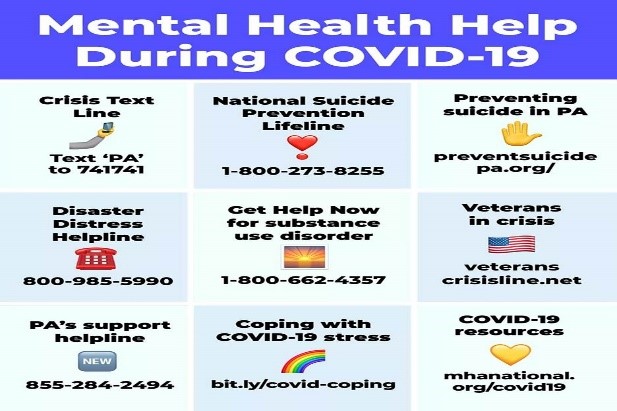 Having Hope - Hope is the desire to be happy, it is the concept that things will change and that pain or misfortune will pass. Read full article

Staying Active - A COVID 19 has made it harder for many of us to keep physically active although it is so important at this time both for mental and physical wellbeing. Read full article
Your Voice in Harrisburg
The Arc of Pennsylvania is OPEN and staff are working remotely. If you need to reach us, contact our phone number at 717.234-2621 or send us an email.

Upcoming Activities from The Arc of PA Staff: In the next two weeks, The Arc of PA staff will be participating in these meetings and activities of special interest:
Sherri Landis, Executive Director: PA Disability Weekly Meeting, Stakeholder COVID-19 Meeting, Coalition for Inclusive Community, Disability Integration Task Force, PA Disability Weekly Conference Call, PA Schools Work Mobilization Committee, Technology Task Force and various meetings with local chapters & executives.
Katie Yost, Director of Government & Chapter Relations: Various meetings with the PA House and Senate,
PA Developmental Disabilities/Policy Information Exchange,
Coalition for Inclusive Community, Disability Integration Task Force, SAGA Committee, Technology Task Force & PA Schools Work Mobilization Committee.
To view archived copies of In Touch: