Friendly Tasks for Meeting


Care of Meeting: Don G
Key / setup: Karen S
Setup Helper: Don L
Greeter: Wendy G
Snack:

Lisa F


Kitchen setup: vacant
Kitchen setup Help:

vacant
Kitchen cleanup:

Larry T


Kitchen cleanup Help:


Children's teacher: Virginia H
Upcoming Second Hours:
Nov 26
Dec 4 - Potluck (Spiritual Journey TBD)

Dec 11 - MfWfB

Dec 18 - Intergenerational Holiday sharing
Dec 25 - TBD
Jan 1 - TBD
Jan 8 - MfWfB
Jan 15 – spiritual journey
Jan 22 - OWC
Jan 29 - TBD
Calendar for Bellingham Friends
Midweek Worship
Mary Ann P.'s home
Silent worship and worship sharing - Usually 2nd and 4th Wednesdays.
Thurs, Dec. 1, 7 - 9 PM
Spirit Group
at Larry T.'s home
See Spirit Group Announcement below for link to readings and more information.
Saturday, Dec 10, 10AM
Friendly Listening Group
Terra Organica, 1530 Cornwall Ave.
Contact Dusty Andersen or Lynne Lohr for more information.
November query of the month: from NPYM Faith and Practice (p.43):

"How do we use our diversity for the spiritual growth of our Meeting? Are we prepared to let go of our individual desires and let the Holy Spirit lead us to unity? Do we act in a spirit of love and humility?"
Bellingham Friends Announcements
Announcements From Committees and Representatives
Children's Program Committee
NEW KID-SPACE at Explorations! Children's Program is now officially being held in the former Explorations offices, off the hallway between the two bathrooms. Two thirds of our Children's library books are in the credenza to the left of the main door as you enter. (The remaining third is still in a box in the Children's Program cabinet.)
Cabinet switcheroo. The contents of the Children's Program and Hospitality cabinets have been swapped, in accordance with the request of Explorations Academy.
Moving the cabinet. Explorations is supposed to have cleared a space for our Children's Program cabinet in the Vault/walk-in closet in the new space by this Sunday! If they do, we will need volunteers after worship to help move the cabinet!
Children will continue to get snack in the Commons. Their snacks are now in the Hospitality cabinet.
Fun for
Friends, young and old! Our terrific volunteer teacher team is signed up through the end of the year, looking forward to talking, playing, learning and creating with kids. Teachers are welcome to develop their own lessons plans. (If you can, link lessons to Friends' testimonies.) There's also a giant purple box full of curriculum in the Children's Program Cabinet at Explorations. And there are two lesson plans from Friends Thru Time available on the website, bellinghamfriends.org . They are on the "Links" page.
Art Days with Aurora: When Aurora is back on her feet after her double knee surgery (by December 18, we hope!) she'll be back to facilitating a once-a-month Sunday morning program that is art-only. We consider this an experience of the testimonies of community and equality, as the kids practice sharing, celebrating each creation, and enjoying each other.
November Schedule:
Nov. 20 - Virginia Herrick
Nov. 27 - Lisa Farino
Dec. 4 - Virginia Herrick
Dec. 11 -
Rachel VanBoven
Holiday plans:
Nov. 27 is Thanksgiving weekend. Lisa, Anthony's mom, will be leading a Children's program on gratitude.
Dec. 18 is our annual midwinter holiday celebration. OWC is organizing the second hour: stay tuned for more information! Aurora Fox will be doing a holiday craft project with the kids during first hour. If you have old Christmas cards we can use, please contact her.
Christmas Morning Sunday: Christmas falls on Sunday this year. At this time Children's Program Committee has not heard that any families plan to attend, and we are not planning to provide a program. Our impression is that worship may be held at a Friend's home. Any parents who decide to attend with kids should feel free to bring children into worship. Neither Anna nor Dora will be available Christmas day.
Outreach and Welcoming Committee
Beginning on

November 20th

, the Outreach and Welcoming Committee will present a series of quarterly "Quaker Ways" Second Hours concerning essential aspects of Quakerism and our relationship to the wider world. The first one, concerning

"Discernment of the Sense of the Meeting"

will be facilitated by Dusty Andersen. All sessions are intended to be accessible to newcomers as well as experienced Friends, and will include opportunities for discussion and personal sharing.
The OWC will also be coordinating the

Intergenerational Holiday Sharing 2nd Hour on December 18th

. Contact Wendy Goldstein (360-224-0980 or wbgrateful@yahoo.com) to have your contribution (poetry, music, storytelling, or whatever) added to the schedule, which will also include an intergenerational activity for the whole group, details to be announced later.

Our documents,"

Regular Bellingham Friends Meeting Activities and How to Learn More About Them

"

(recently updated)

and "

A Quaker Glossary

" are both available in hard copy on the greeting table and also by download from the "About Us" page of the BFM website, http://bellinghamfriends.org.
OWC meets next on Saturday morning, December 3rd. All Friends are welcome but please contact clerk Don Goldstein (671-1395 or dnx6309@gmail.com) if you will be joining us.
Social and Environmental Concerns
Friends, please let SEC know if you have an interest in a particular topic related to social and environmental concerns that you would like to have addressed in a second hour. We are now accepting suggestions, and you would not need to commit to working on the program.
(SEC members are Nan Macy, Joan Ofteness, Cheiron Moriya, and Judy Hopkinson)
BACK BY POPULAR DEMAND
This Soul Stirring Choral Performance of Water is Life: Mni Wiconi
by Sara Thomsen
(Click on the image below to access the recording and listen)
Local Action in Support of Standing Rock Sioux
Several Friends participated in the Tuesday event
Are you led to join them on Saturday?
Picture on left is taken from a facebook post of the Day of Solidarity with the Standing Rock Sioux in Bellingham on November 15 (yesterday). Organized by Bellingham NoDAPL
Another solidarity action is planned by NoDAPL for Saturday, Nov 19th
Here is their description of the planned event: The Saturday action will focus on Wells Fargo, one of the 17 banks funding the Dakota Access Pipeline. The group will share information with people visiting the bank and encourage them to divest their resources; to revoke their consent and put stress on the bank's capacity to continue harassing water protectors.
This is a peaceful yet firm, truth-sharing rally with respect for requests from indigenous elders and Standing Rock leadership for continued peaceful response.
Meet at the corner of Cornwall and Magnolia at 1pm to ride together from the bus depot, or at Wells Fargo at 2pm. Bring signs, drums, instruments, and a bus pass/change ($1/ride).

Contact Jasmine Koster at jazz.koster@gmail.com with accessibility questions and concerns.
Spirit Group
Announcement
Next meeting:
Thurs, Dec. 1 , 7 - 9 PM
Friends, please click here to read and/or print the draft of the revised Chapter 4 of NPYM's new "Faith and Practice" which the Spirit Group will continue to discuss over the next several months. See calendar for location and time.
(WARNING - this is a long document (38 pages) - too long to print copies for distribution to everyone. So you might want to bring an electronic copy to Spirit Group or read ahead and take notes. )
The group will discuss
"Peace" (pages 22-26) in chapter 4 of the draft revision of NPYM's "Faith and Practice"

A short article from "Universalism and Spirituality" (copies available from Larry T or Don G)

The future of the group
Friends Committee on National Legislation (FCNL)
Supporting Spirit-led action in the weeks and months ahead!
A timeless message from "Sustaining the Peacemaker" (Quaker Life, 1982) by FCNL Executive Secretary Emeritus Ed Snyder:
"If [peacemaker] motivation based on anger, fear, success, or guilt is dubious, where do we look? It seems to me that the spiritual resources for the long haul must begin with an abiding faith that peace is the will of God, and must be grounded in a belief that the human race is one family."

---
Following the recent election, hundreds of Friends came together from across the country to confront what it means to love all our neighbors now - click above for full report. And drawing on input from Meetings nationwide, FCNL's governors met to discern Legislative Priorities and plan advocacy work for 2017. Input from Bellingham Friends Meeting is well-represented in the FCNL priorities. Click below for statement by FCNL General Committee on 11/13/2016:
_________________________________________________________________________________
Sentencing Reform! A call for national action in December:
Sentencing Reform Legislation is still possible IF Congress gets back to work and focuses now on bipartisan agreement to change our criminal justice laws. For the thousands of people in federal prison on lengthy, unjust sentences, we can't wait. We're 90% of the way to passing this legislation and need to get Congress to complete the job before the 2016 session adjourns. FCNL is asking the entire national network to meet with members of Congress in your home district this December.
If you are interested in joining our local Advocacy Team to meet with Reps. Rick Larsen or Susan Del Bene, or staff for Senators Patty Murray or Maria Cantwell, contac
t
Virginia Herrick
Everything you need to prepare for December lobby visits:
online training resources at
---
Friends Committee for National Legislation
Capital Campaign
FCNL is grateful for the financial support Bellingham Friends Meeting has given as well as the grass root lobbying and suggestions for the Legislative Priorities.
Now FCNL is asking that BFM and Friends consider making a special, onetime contribution to its Capital Campaign, "The World We Seek: Now is theTime".
If you have any questions, please contact Lorina Hall. FCNL 245 Second St. NE, Washington, DC 20002
2017 Quarterly Meeting Planning Committee (QMPC)
This is an ad hoc (limited term) joint committee including Friends from both Bellingham and Lopez Island Friends Meetings, for the purpose of planning and organizing the adult program for next spring's Pacific Northwest Quarterly Meeting session, to be held April 21-23, 2017, at Lazy F Camp and Retreat Center, near Ellensburg. The session theme will be

"Discerning our Leadings: Worshiping with our Lives."

If you're interested in joining us or just curious about what QM planning involves, contact QMPC Co-clerk Don Goldstein (671-1395 or dnx6309@gmail.com). Next meeting: Friday November 18, 10 am.

Videos and Podcasts for the Quaker Soul
Click on the images to view or cut and paste the link below the image into your browser.
​​​​​​Politics is on our minds this week. Marge Abbott and Noah Merrill explore how Friends have been called to engage in the political conversation in the past, and offer a vision for the future.
(about 5 min)
http://quakerspeak.com/quaker-vision-political-activism/

QuakerSpeak

_________________________________________________________

On Being with Krista Tippett




VINCENT HARDING - Is America Possible?
(51 min - time for tea)
In an unsettled political moment, at the end of a divisive campaign, the late, great civil rights elder Vincent Harding is a voice of calm, wisdom, and perspective. He was wise about how the civil rights vision might speak to 21st-century realities. Just as importantly, he pursued this by way of patient yet passionate cross-cultural, cross-generational relationship. He reminded us that the Civil Rights Movement was spiritually as well as politically vigorous; it aspired to a "beloved community," not merely a tolerant integrated society. He posed and lived a question that is freshly in our midst: Is America possible?
Learning and living in the great outdoors

Total Eclipse Trip
August 20th - 21st, 2017
On Monday, August 21st, 2017, a total solar eclipse will be visible from parts of the continental United States for the first time since February 1979, presenting a unique opportunity to view this spectacle of nature within only a few hours' drive of home. I am organizing a trip for interested Bellingham Friends that involves driving from Bellingham after meeting and lunch on Sunday, August 20th to The Dalles, OR, where I have reserved several rooms at a relatively inexpensive motel for that night. Most of these rooms are already spoken for. On Monday morning we will caravan southward to the vicinity of Madras, OR, our eclipse-viewing location where the first partial phase of the eclipse begins about 9:30 am, and totality at about 10:30.
If you're interested in joining this trip and using one of the reserved motel rooms, please contact me at dnx6309@gmail.com ASAP so that I can add you to the list of those to be kept informed as plans develop. There is no up-front cost. Be forewarned, however, that motel rooms in the area are already scarce for August 20th and may be unavailable soon. The same may be true of campgrounds.
--Don


November 19, Saturday, 9:00 AM to 4:00 PM
Mirror Lake Bog
With Thanksgiving following closely after this trip, a walk to Mirror Lake is a timely chance to harvest fresh Cranberries. Mirror Lake has both our native Little Bog Cranberry (Vaccinium oxycoccos) and Big Bog Cranberry (V. macrocarpon) native to the east coast but introduced sporadically throughout the west coast for commercial production. Despite the small size of the Mirror Lake bog, there is a nice diversity of bog vegetation. Meet by the tennis courts at Whatcom Falls Park (off Electric Ave., near Lafeens Donuts) at 9:00 AM to carpool. Rubber boots are highly recommended. If time allows, we may also explore the Barrell Springs bog before returning in the late afternoon. Contact Abe Lloyd (arcadianabe@yahoo.com; 360 303-1339) if you have questions.
__________________________________________________________________
Announcements of Events in the
Wider Community
__________________________________________________________________

Annual Ralph Munro Institute
Wednesday, Nov. 16 TODAY!
The Homelessness Crisis, 1:15–2:30 p.m., Old Main Theatre
Moderator: Steve VanderStaay, vice provost for Undergraduate Education, WWU
Panelists:
Mike Parker, director of Whatcom Homeless Service Center

Walter Zisette, associate director, Capitol Hill Housing, Seattle

Riannon Bardsley, executive director, Northwest Youth Services, Bellingham

Debbi Knowles, Snohomish County Office of Community and Homeless Services, WWU alumna
Mass Incarceration, 3-4:15 p.m., Old Main Theatre
Moderator: Vernon Johnson, Munro Institute director, Political Science Department, WWU
Panelists:
Brad Klippert, Washington State House of Representatives, 8th Legislative District

Brynn Jacobson, King County Deputy Prosecuting Attorney/Future Prosecutors for Social Justice

Kathleen Kyle, Snohomish County Public Defender Association/Washington Sentencing Guidelines Commission

Ron Helms, Sociology Department, WWU

Celina Meza, Yoga Behind Bars
For more information, contact Vernon Johnson, Western Washington University professor of Political Science and program director for the Ralph Munro Institute for Civic Education at (360) 650-4874 or Vernon.Johnson@wwu.edu.
__________________________________________________________________

Master weaver Susan sa'hLa mitSa Pavel

Thursday, November 17, 5:00pm
(Free - no late seating)

Fine Arts Building 141 - Western Gallery


Master weaver Susan sa'hLa mitSa Pavel will discuss her close working relationship with Skokomish elder and master weaver Bruce subiyay Miller. Pavel will highlight the importance of the traditional apprenticeship process on the transmission of cultural knowledge and how she in turns shares these teachings with her own students.
Part of the Susan Point Past Present: Cultural Visions in New Media exhibition at the Western Gallery
Gallery Hours
Monday, Tuesday, Thursday, Friday: 10 a.m. - 4 p.m.
Wednesday: 10 a.m. - 8 p.m.
Saturday: 12 - 4 p.m.
Closed Sundays and

university holidays

.
Cultural Visions in New Media
September 22 - December 3

,
Western Gallery
Hours: M, T, Th, F 10-4; W 10-8; Sa 12-4.
Located in the Fine Arts Building on the WWU Campus
__________________________________________________________________

Prayer Vigil for Peace in the Middle East
Bellingham faith communities continue the monthly prayer vigils for peace in the Middle East, which were started in December 2000 at the initiative of the Evangelical Lutheran Church in America and organized nationally by Churches for Middle East Peace.

The following faith communities will host the monthly prayer vigils from
5:30 - 6 PM
on


Tuesday, November 18: Sacred Heart Catholic Church
__________________________________________________________________

Friday Peace Vigil - started by Rosemary and Howard Harris
Celebrates 50 years in 2016! Longest continuous peace demonstration in the United States!
When: Every Fri, 3:45pm – 4:45pm
Where: 104 W Magnolia St, Bellingham, WA 98225, USA (map)
Description: The Nation's oldest weekly Peace Vigil. Paricipants gather weekly at 4:00 pm with signs in front of the Federal Building on the Corner of Magnolia and Cornwall Streets.
_________________________________________________

Looking Ahead to Wider Quaker Gatherings
General Meetings - Quarterly and Yearly Meetings and The Gathering
___________________________________________________________
April 21-23, 2017
Spring 2017 session, Pacific Northwest Quarterly Meeting (PNQM)
Theme:
Discerning our Leadings: Worshiping With Our Lives
Where: Lazy F Camp and Retreat Center near Ellensburg WA
Hosted by: Bellingham Friends Meeting and Lopez Island Friends Meeting


For more information, contact Don Goldstein (dnx6309@gmail.com) or click

here

.
_________________________________________________________________
Quaker special events, retreats, workshops, conferences, etc.
_________________________________________________________________
Announcements / Opportunities from Other Quaker Groups
____________________________________________________

Pendle Hill
Offers Quaker Studies Online courses
(as well as amazing on-site retreats and workshops!)
click the link below for more inforamtion about on-line courses:
http://www.pendlehill.org/quaker-studies-online-a-new-pendle-hill-initiative/#.VzkJ-JMrL6A

Pendle Hill Online Course - January 9, 2017 - April 2, 2017
Winter 2017: Exploring the Quaker Way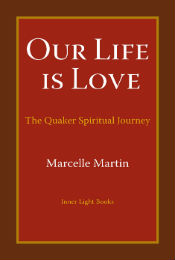 This course, taught by Marcelle Martin and assisted by Steve Chase, runs from January 9 through April 2. "Exploring the Quaker Way" is for seekers, attenders, and interested members of Friends meetings who want to: 1) deepen their understanding of the "unprogrammed" Quaker tradition; 2) better understand the spiritual journey common among early and current Friends; 3) reflect on their own spiritual journeys within this simple, radical, and contemporary spiritual path; and 4) become more familiar with key elements of fostering vibrant and caring Quaker communities. It is designed for people who want to explore these themes through personal reflection, focused study, and deep dialog within a lively learning community gently guided by seasoned Quaker educators and several guest presenters.
>>> Click here for more information <<<

__________________________________________________________

From North Pacific Yearly Meeting
A Call for Art Work
DEADLINE: DECEMBER 31, 2016
The NPYM Committee on the Discipline (Faith and Practice) is issuing a call for art work to be used in the revised volume of our Faith and Practice.
We are looking for black and white images, such as line drawings or block prints. We seek images reflecting Quaker values and the geography and spiritual life of our Yearly Meeting.
An outline of the new Faith and Practice is included below to help with deciding what might fit.
We encourage submissions from all age groups.
You may submit your work electronically to the Faith and Practice Committee, (Discipline_Committee_Clerk@npym.org) or you may send a hard copy to NPYM, Committee on the Discipline, 3311 N. W. Polk Ave., Corvallis, OR 97330
They will also be able to provide guidelines for submissions and other materials to help you.
_________________________________________________________________
Friends General Conference
(Offers many resources including the ones listed below)
Building a deeper spiritual community in your meeting.
_________________________________________________________________
On-line Quaker Meetings for Worship - with two Quaker Groups
On Our Website:
Click to visit website
Metamorphosis
(our monthly newsletter - with feature articles and poetry and much more!)
Back issues of the E-News
(soon to include this one!)