Friendly Tasks for Meeting



Care of Meeting: Lynn L
Key / setup: Don G
Setup Helper: Wendy G
Greeter: Judy H
Snack:

Joanne C (?)


Kitchen setup: Mark H
Kitchen setup Help: vacant
Kitchen cleanup: vacant
Kitchen cleanup Help:

vacant
Children's teacher:

Virginia H
Upcoming Second Hours:
Nov 6 - Potluck

Nov 13 - MfWfB

Nov 20 -
Quaker Ways: Discernment (Dusty)

Nov 26

Dec 4 - Potluck (Spiritual Journey TBD)

Dec 11 - MfWfB

Dec 18 - Intergenerational Holiday sharing
Calendar for Bellingham Friends
Midweek Worship
Mary Ann P.'s home
Silent worship and worship sharing - Usually 2nd and 4th Wednesdays.
Thurs, Oct 27 , 7 - 9 PM
Spirit Group
at Larry T.'s home
Discussing "Community" (pages 7-22) in the new draft chapter 4 from NPYM's "Faith and Practice".
See announcement below for link to obtain the material.
Sunday, Oct 30, 1:00pm -5:00
"Active Hope for Bellingham"

Workshop presented by
Mary Ann Percy
Bell Tower Studio, 1430 N. Garden St.
Saturday, Nov 12, 10AM
Friendly Listening Group
Terra Organica, 1530 Cornwall Ave.
Contact Dusty Andersen or Lynne Lohr for more information.
Tuesday, Nov 15, 7 – 9 PM
Book Group
at Richardsons's home
We'll be discussing "Quiet: The Power of Introverts in a World that Can't Stop Talking" by Susan Caine
Monday, Nov 14, 7 - 9 PM
Earthcare Group
at Mary Ann P's home
Discussing Chapter 4 of Active Hope by Joanna Macy plus experiential exercise.
October query-- From NPYM Faith and Practice (p.43):

"How do we use our diversity for the spiritual growth of our Meeting? Are we prepared to let go of our individual desires and let the Holy Spirit lead us to unity? Do we act in a spirit of love and humility?"
Bellingham Friends Announcements
_______________________________________________________

Message from our Finance Committee:
Donations are lagging behind expenses again.
But, this discrepancy is far beyond our usual imbalance this time of year.
It looks as though - without a little help from our Friends -
we will have to draw down our reserves significantly to cover expenses.
But we do have Friends
Please consider making a special contribution.

_______________________________________________________

__________ Friendly Listening Group ________
The "Friendly Listening Group" meets second Saturday of every month at 10 a.m. near Terra Organica in the Public Market, 1530 Cornwall Ave. All are welcome. We just chat and share our lives and thoughts for an hour or so. Contact Dusty Andersen or Lynne Lohr for more information.

______________From Don Goldstein______________

Total Eclipse Trip
August 20th - 21st, 2017
On Monday, August 21st, 2017, a total solar eclipse will be visible from parts of the continental United States for the first time since February 1979. The map below shows the path of totality across the U.S. The next total solar eclipse whose path comes this close to Bellingham will not occur until September 2099, beyond the lifetimes of at least the adults in our Meeting. Thus the 2017 eclipse presents a unique opportunity to view this spectacle of nature within only a few hours' drive of home.

I am organizing a trip for interested Bellingham Friends that involves driving from Bellingham after meeting and lunch on Sunday, August 20th to The Dalles, OR, where I have reserved seven rooms (enough for about 14 adults and several children) at a relatively inexpensive motel for that night. We will have dinner together after checking into our rooms, after which I will give a briefing on how to view the eclipse safely but thoroughly and will distribute protective glasses for partial-eclipse viewing before and after totality (no eye protection is needed during totality).

On Monday morning we will caravan southward to the vicinity of Madras, OR, our eclipse-viewing location. The first partial phase of the eclipse begins about 9:30 am, with totality at about 10
:30. Once the eclipse is over we will gather for lunch and to exchange impressions and perhaps photographs. If desired, I can also give a briefing on future solar and lunar eclipses for those who want to see and learn more.

If you're interested in joining this trip (whether or not you want to use one of the reserved motel rooms), please contact me at dnx6309@gmail.com so that I can add you to the list of those to be kept informed as plans develop. There is no up-front cost. Be forewarned, however, that motel rooms in the area are already scarce for August 20th and may be unavailable soon. The same may be true of campgrounds.


________________________________________________


ACTIVE HOPE FOR BELLINGHAM
October 30th
1:30-5:30 PM


Email: activehope@kulshan.net
Suggested: $15- $50
No one will be turned away BUT it is expected to fill up,
so please reserve a spot!

If Friends are able to arrive early (a tad after 1P) and/or (especially) stay late to help w/ set up and clean up, that would be great!
Announcements From Committees and Representatives
Spirit Group

- October 27th and subsequent months
Friends, please click here to read and/or print the draft of Chapter 4 of NPYM's new "Faith and Practice" which Alice Robb presented during our second hour on June 26th, and which the Spirit Group will continue to discuss over the next several months. See calendar for location and time.

WARNING - this is a long document (38 pages) - too long to print copies for distribution to everyone. So you might want to bring an electronic copy to Spirit Group or read ahead and take notes.
Friends Committee on National Legislation (FCNL)
Supporting Spirit-led action in the weeks and months ahead!
Register to VOTE!
General Election November 8! In addition to the presidency, we will be electing US Congressional Representatives, State Senate and House legislators, and deciding important local and statewide initiatives. Online voter registration has ended, but you can still register in-person!
Washington Voter registration deadline
In-Person Registration at Auditor's office by Mon Oct 31, 2016
Whatcom County Courthouse
---
Sentencing Reform
!
A call for national action in December:
There is now bipartisan support in Congress to reform the U.S. system of mass incarceration. We're 90% of the way to passing this legislation and need to get Congress to finish the job. In order to pass this reform before the 2016 session adjourns, FCNL is asking the entire national network to meet with members of Congress in your home district this December.
If you are interested in joining our local Advocacy Team to meet with Reps. Rick Larsen or Susan Del Bene, or staff for Senators Patty Murray or Maria Cantwell, contact
Virginia Herrick
---
Check out the new FCNL website:
www.fcnl.org
.
It is inviting, useful, and mobile-friendly!
Social and Environmental Concerns
(Message adapted from Rabbi Arthur Waskow of the Shalom Center)
Dear Friends,


The spiritual and nonviolent "Water is Life" protest led by members of the Lakota Nation and other Native Peoples is being met with worsening violence by the local police. There is a danger that in the next few days, some protesters may be killed.
The Water is Life Movement has since Saturday responded to police violence not by pulling back but by establishing new prayerful, peaceful encampments to prevent the speeded-up encroachment by the PipeLine diggers. Through their commitment to nonviolent action to heal the sacred Earth and River, they are risking mayhem and death.

If you are led to stand with Standing Rock at this time on the earth, we encourage you to make three phone calls
1. Call the White House at (202) 456-1111 or (202) 456-1414 to urge President Obama to rescind the Army Corps of Engineers' permit for the Dakota Access Pipeline.;
2. Call North Dakota Governor Jack Dalrymple at 701-328-2200 to leave a message stating your opposition to the Dakota Access Pipeline and to violent behavior by the police in dealing with the Water Protectors;

3. Call the Army Corps of Engineers (202) 761-5903 -- and tell them it is time to rescind the permit.
You may also be led to provide material help to the Lakota protest as it moves into a stern Dakota winter by sending money to buy clothing, food, and other supplies for a lengthy steadfast stay. Please send your gifts by clicking here: https://www.gofundme.com/sacredstonecamp

Children's Program Committee
THIS Sunday (Oct. 30)
in honor of
Hallowe'en: Mask-making and Learning abo
ut Friends Testimonies
!
We will be reading a story about someone who uses a disguise for protection. We'll also be looking for how the Quaker testimonies of peace, community, equality, and integrity show up in the story. At the same time, young Friends will have a chance to make a little disguise of their own! If there's a particular kind of mask you'd like to make, email Virginia and she'll try to bring the supplies you'll need to make it! (Paper plates can be the foundation for a surprising array of masks!)
Here are a few!
Holiday plans:
Nov. 27 is Thanksgiving weekend. Lisa Farino, Anthony's mom, will be leading a Children's program on gratitude.
Dec. 18 is our annual midwinter holiday second hour. OWG and Children's Program hope to collaborate on an intergenerational craft project. We'll also do some holiday singing, and there will be opportunities for Friends to share talents or stories while the craft-making is going on! If you have old Christmas cards we can use, please contact Wendy Goldstein or Aurora Fox.
Dec. 25 Christmas Morning Sunday: Christmas falls on Sunday this year, and our expectation is that some Friends will want to meet for worship. Children's Program Committee does not plan to provide a children's program, but encourages parents who wish to attend to allow their children to join them in worship. Also, we urge Friends to be open to the leadings of the Spirit in the moment. Neither Anna nor Dora will be available that day.
Outreach and Welcoming Committee
Beginning on

November 20th

, the Outreach and Welcoming Committee will present a series of quarterly "Quaker Ways" Second Hours concerning essential aspects of Quakerism and our relationship to the wider world. The first one, concerning

"Discernment of the Sense of the Meeting"

will be facilitated by Dusty Andersen. All sessions are intended to be accessible to newcomers as well as experienced Friends, and will include opportunities for discussion and personal sharing.
The OWC will also be coordinating the

Intergenerational Holiday Sharing 2nd Hour on December 18th

. Contact Wendy Goldstein (360-224-0980 or wbgrateful@yahoo.com) to have your contribution (poetry, music, storytelling, or whatever) added to the schedule. .

Our documents,"

Regular Bellingham Friends Meeting Activities and How to Learn More About Them

"

(just updated)

and "

A Quaker Glossary

" are both available in hard copy on the greeting table and also by download from the "About Us" page of the BFM website, http://bellinghamfriends.org.
OWC meets next on Saturday morning, October 29th. All Friends are welcome but please contact clerk Don Goldstein (671-1395 or dnx6309@gmail.com) if you will be joining us.
2017 Quarterly Meeting Planning Committee (QMPC)
This is an ad hoc (limited term) joint committee including Friends from both Bellingham and Lopez Island Friends Meetings, for the purpose of planning and organizing the adult program for next spring's Pacific Northwest Quarterly Meeting session, to be held April 21-23, 2017, at Lazy F Camp and Retreat Center, near Ellensburg. The session theme will be

"Discerning our Leadings: Worshiping with our Lives."

If you're interested in joining us or just curious about what QM planning involves, contact QMPC Co-clerk Don Goldstein (671-1395 or dnx6309@gmail.com). Next meeting: Friday November 18, 10 am.
Learning and living in the great outdoors:
November 19, Saturday, 9:00 AM to 4:00 PM
Mirror Lake Bog
With Thanksgiving following closely after this trip, a walk to Mirror Lake is a timely chance to harvest fresh Cranberries. Mirror Lake has both our native Little Bog Cranberry (Vaccinium oxycoccos) and Big Bog Cranberry (V. macrocarpon) native to the east coast but introduced sporadically throughout the west coast for commercial production. Despite the small size of the Mirror Lake bog, there is a nice diversity of bog vegetation. Meet by the tennis courts at Whatcom Falls Park (off Electric Ave., near Lafeens Donuts) at 9:00 AM to carpool. Rubber boots are highly recommended. If time allows, we may also explore the Barrell Springs bog before returning in the late afternoon. Contact Abe Lloyd (arcadianabe@yahoo.com; 360 303-1339) if you have questions.
Videos and Podcasts for the Quaker Soul
New Feature - Please let the editor know if you like this!
(Contributions welcome!)
Click on the images to view or cut and paste the link below the image into your browser.
Each program is ~ 1 hour in length

****
Jay O'Hara
Held Over For Another Week!
The Moral Necessity of Climate Disobedience
presented at the October 8th Interfaith Climate Conference in Seattle
(recommended by Mary Ann P and Judy H)
Jay Ohara is a powerful, prophetic voice for Quakers today


https://youtu.be/JXdKCHjekjc

****
Robin Meyers
UNDONE: Faith as Resistance to Orthodoxy
(Recommended by Karen S)
Another in the series by Robin Meyers



https://www.youtube.com/watch?v=H8gkZddBY9A
****

On Being with Krista Tippett
PAULO COELHO — The Alchemy of Pilgrimage
The Brazilian lyricist Paulo Coelho is best known for his book, The Alchemist — which has been on the New York Times bestseller list for over 400 weeks. His fable-like stories turn life, love, writing, and reading into pilgrimage. In a rare conversation, we meet the man behind the writings and explore what he's touched in modern people.
Paulo Coelho is the author of many books including The Pilgrimage, Veronika Decides to Die, and The Alchemist. His forthcoming book out in the fall is The Spy.

http://www.onbeing.org/program/paulo-coelho-the-alchemy-of-pilgrimage/6639

__________________________________________________________________
Announcements of Events in the
Wider Community
________________From Karen Steen _________________

FREE video showing and discussion Thursday, 10/27, 1:15 – 3:15 pm:

"Quantum Physics and the Future of God:
Toward a New Definition of Almighty"
Rev. Robin Meyers, PhD (UCC)
First Congregational Church Bellingham
2401 Cornwall Ave.
Administration building corner of Logan & D Streets
Rev. Meyers, UCC minister, prolific author and dynamic speaker for radically progressive Christianity, addresses this current five-year theme of the international Jesus Seminar, "The Future of God". Bring your bag lunch and join an intelligent, lively, diverse small group dedicated to sorting out fact from myth. Or, you can view Rev. Meyers' presentation online at
https://www.youtube.com/watch?v=lISLX4CE8fA

________________________________________________________________________
----------------------------------------------------------------------------
Susan Point
Past Present
Cultural Visions in New Media
September 22 - December 3

,
Western Gallery
Hours: M, T, Th, F 10-4; W 10-8; Sa 12-4.
Located in the Fine Arts Building on the WWU Campus
Susan Point is a world renowned artist who seamlessly synthesizes her Musueam, Coast Salish, heritage with contemporary media. This exhibit will highlight Point's multi-dimensional visions that continually push the boundaries of classic Coast Salish aesthetics and challenge the constraints placed on First Nation artists by academics, collectors, and the art market
Events coming up at Western Gallery's Fine Arts Building
Click here for a
map
Archaeologist Dale Croes and Suquamish master weaver Ed Carriere
Thursday, October 13, 5:00pm
Lecture: Master carver Jewell Praying Wolf James
Thursday, October 27, 5:00pm
Symposium of Artists and Scholars
Saturday, November 5, 1:00pm
(off-campus location TBA)
Master weaver Susan sa'hLa mitSa Pavel
Thursday, November 17, 5:00pm
________________________________________

Coming...October 26th
Help Wanted: Keep Out!
The Long History of Duality in the
Immigration Policies of Our Country

Northwood Hall (3240 Northwest Avenue, Bellingham, WA).
Doors open at 11:30 a.m.; buffet lunch is served at 11:50 a.m.;
the program starts at 12:20 p.m. and ends at 1:30 p.m.

Cost:
Advance ticket purchase through Brown Paper Tickets: $13 for members, $18 for non-members, $5 for Young Adults (29 and under)
At the door: $15 for members and $20 for non-members.
Speakers, Dr. James Loucky and Hannah E. Stone, JD will explore the reasons why people migrate from their homelands, the policies that drive immigration, the laws that regulate it and how all these things affect new and established residents of our country. Two other guests will share their first person experiences and perspectives on immigration.
Special bonus event (no additional charge):
The program continues at City Club After Dark, Join us again in the evening at Boundary Bay from 5-7 pm to mingle with community members and discuss today's topic with our speakers from the noon program. This event is free -- light snacks are provided and a no host bar. Advance ticket sales end Monday, October 24th at 11:50am.
To reserve ticket(s) for the next Bellingham City Club meeting click this link:
OR
CALL Brown Paper Tickets 800-838-3006

_________________ From Lisa Farino _________________

You're invited to see TWO remarkable photographic exhibitions at the Lightcatcher building:
click on picture for more information


Also at the Museum:
Sat., Oct. 29, 10am-4pm | Lightcatcher
Family Activity Day: Día de los Muertos/Day of the Dead Festival
Celebrate with us at our Día de los Muertos festival! Open to all ages, this year's lively festivities will feature a variety of art projects such as decorating clay "sugar" skulls, creating altar tables, face painting, and more. The traditional Mexican folkloric dance troupe, Chicas Reinas, will be performing from 2-3pm. A special thanks to the Northwest Washington Hispanic Chamber of Commerce for their support in making this performance possible.
______________________________________________________________________

Need more information to mark your ballot?
In case you missed them, the
Whatcom County Election Forums are now on Youtube:
(click on blue text to view)
1st and 2nd District US Congressional Representative Candidates
City of Bellingham Greenways Levy
Whatcom County EMS Levy
40th and 42nd Legislative District State Senate Candidates
42nd Legislative District State Representative, Position 1 and Position 2 Candidates
Initiative 732: Carbon Consumption Tax. Concerning reducing specific state taxes and creating a carbon tax.
Initiative 1433: Raise-Up Washington. Concerning raising the state minimum wage.
Initiative 1464: Government Accountability. Concerning campaign finance reform, disclosure and enforcement, and creation of a public campaign financing program.

____________________________________________________

Doctober at the Pickford

A full month of award winning documentaries


Each October, Pickford Film Center presents Doctober, our month long celebration of the art of the documentary featuring some of the most diverse and varied programming offered all year. With over 50 films in the lineup, something for everyone is hardly an exaggeration.
Doctober gives us an opportunity to work with other organizations in Bellingham to bring important issues to the community, frequently with filmmaker visits, special guests, pre-screening receptions and guided discussions.
Join our email list to get weekly updates on Doctober events, films, and newly added encores.
Click here for the 2016 Doctober lineup

_________________________________________________________________

Prayer Vigil for Peace in the Middle East

Bellingham faith communities continue the monthly prayer vigils for peace in the Middle East, which were started in December 2000 at the initiative of the Evangelical Lutheran Church in America and organized nationally by Churches for Middle East Peace.

The following faith communities will host the monthly prayer vigils from
5:30 - 6 PM
on


Tuesday, November 18: Sacred Heart Catholic Church
_____________________________________________________________________________________
_________________________________________________

Looking Ahead to Wider Quaker Gatherings
General Meetings - Quarterly and Yearly Meetings and The Gathering
___________________________________________________________
April 21-23, 2017
Spring 2017 session, Pacific Northwest Quarterly Meeting (PNQM)
Theme:
Discerning our Leadings: Worshiping With Our Lives
Where: Lazy F Camp and Retreat Center near Ellensburg WA
Hosted by: Bellingham Friends Meeting and Lopez Island Friends Meeting


For more information, contact Don Goldstein (dnx6309@gmail.com) or click

here

.
Quaker special events, retreats, workshops, conferences, etc.
__________________________________________________________
_______________________________________________________________
Friday Peace Vigil - started by Rosemary and Howard Harris
Celebrates 50 years in 2016! Longest continuous peace demonstration in the United States!
When: Every Fri, 3:45pm – 4:45pm
Where: 104 W Magnolia St, Bellingham, WA 98225, USA (map)
Description: The Nation's oldest weekly Peace Vigil. Paricipants gather weekly at 4:00 pm with signs in front of the Federal Building on the Corner of Magnolia and Cornwall Streets.
_
______________________________________________________________
On Our Website:
Click to visit website
Metamorphosis
(our monthly newsletter - with feature articles and poetry and much more!)
Back issues of the E-News
(soon to include this one!)
Announcements / Opportunities from Other Quaker Groups
____________________________________________________

Pendle Hill
Offers Quaker Studies Online courses
(as well as amazing on-site retreats and workshops!)
click the link below for more inforamtion about on-line courses:
http://www.pendlehill.org/quaker-studies-online-a-new-pendle-hill-initiative/#.VzkJ-JMrL6A

Pendle Hill Online Course - January 9, 2017 - April 2, 2017
Winter 2017: Exploring the Quaker Way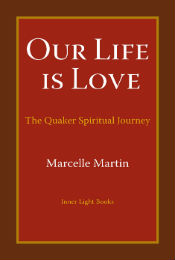 This course, taught by Marcelle Martin and assisted by Steve Chase, runs from January 9 through April 2. "Exploring the Quaker Way" is for seekers, attenders, and interested members of Friends meetings who want to: 1) deepen their understanding of the "unprogrammed" Quaker tradition; 2) better understand the spiritual journey common among early and current Friends; 3) reflect on their own spiritual journeys within this simple, radical, and contemporary spiritual path; and 4) become more familiar with key elements of fostering vibrant and caring Quaker communities. It is designed for people who want to explore these themes through personal reflection, focused study, and deep dialog within a lively learning community gently guided by seasoned Quaker educators and several guest presenters.
>>> Click here for more information <<<

__________________________________________________________

From North Pacific Yearly Meeting
A Call for Art Work
DEADLINE: DECEMBER 31, 2016
The NPYM Committee on the Discipline (Faith and Practice) is issuing a call for art work to be used in the revised volume of our Faith and Practice.
We are looking for black and white images, such as line drawings or block prints. We seek images reflecting Quaker values and the geography and spiritual life of our Yearly Meeting.
An outline of the new Faith and Practice is included below to help with deciding what might fit.
We encourage submissions from all age groups.
You may submit your work electronically to the Faith and Practice Committee, (Discipline_Committee_Clerk@npym.org) or you may send a hard copy to NPYM, Committee on the Discipline, 3311 N. W. Polk Ave., Corvallis, OR 97330
They will also be able to provide guidelines for submissions and other materials to help you.

________________________________________
Friends General Conference
(Offers many resources including the ones listed below)
Building a deeper spiritual community in your meeting.
_________________________
60 minutes of worship every Thursday

11:30 AM Pacific / 12:30 PM Mountain

Come when you can, leave when you must.
__________________________________
On-line Quaker Meetings for Worship - with two Quaker Groups
Ben Lomond Quaker Center
offers on-line worship Every Morning
7:30 - 8:00 AM
Click here for morning worship

Western Friend
offers Lunch-hour Worship on Thursdays
11:30 AM -12:30 PM
Click here to enter "Family Room" for worship