Friendly Tasks for Meeting



Care of Meeting: Sharon T
Key / setup: Lorina H
Setup Helper: Dusty
Greeter:

vacant
Snack: vacant
Kitchen setup: Mark H
Kitchen setup Help:

Virginia H
Kitchen cleanup:

vacant


Kitchen cleanup Help: Jim G
Children's teacher: Virginia H
Upcoming Second Hours:
Jan 8 MFWFB
Jan 15 Spiritual Journey talk (Steve Vanderstaay)
Jan 22 OWC "How We Came to Quakerism" facilitated by Kathy Long
Calendar for Bellingham Friends

Wed. Jan. 11, 7-9 PM
Midweek Worship
usually meeting 2nd and 4th Wednesdays for open worship followed by worship-sharing or other activity as the group decides
Thurs, Jan 12, 7 - 9 PM
Spirit Group
at Larry T.'s home
See Spirit Group Announcement below for link to readings and more information.
Sat. Jan. 14, 10 am
Friendly Listening Group
Terra Organica, 1530 Cornwall Ave.

Tuesday, Jan 17, 7 – 9 PM
Book Group
at Joan Ofteness's home
We'll be discussing "The Social Animal: The Hidden Sources of Love, Character, and Achievement" by David Brooks. Copies of book (for now) are available from Don G.
Query for December
from NPYM Faith and Practice, p. 45

"As we work for peace in the world are we nourished by peace within ourselves?"
Bellingham Friends Announcements
Announcements From Committees
of our local Meeting
Children's Program Committee
THANK YOU! Friends asked for a Christmas "wish list" to make our program more wonderful. We would like to offer our profound thanks for the gifts the children's program has received: a magnetic building toy, wooden building blocks, Duplos, a wooden puzzle, nesting cups and stacking toys. Thank you all so much.
TEACHER TEAM is getting ready! Most of our teaching slots for the next three months are already filled. We still have two spots for adults who'd like to be "support person" for Anna Row when she teaches in the new year, Feb. 5 and March 12. We hope to finalize these in the next couple of weeks. Contact Virginia to sign up. The team: Dave (Anna backup); Dusty Andersen; Rob Dillard; Susan Richardson; Rachel VanBoven; Eric Bablinskas; Kristen McLewin, Jessica Bee, Aurora Fox and Virginia Herrick. Substitutes, ready at a few hours notice in case of illness or other unexpected occurrence: Sharon Trent, John Hatten, and Dorothy DeFremery. Thank you all!
Jan. 1 - Virginia H.
Jan. 8 - Jessica B.
Jan. 15 -
Jan. 22 - Kristen M.
Jan. 29 - Aurora F.
Outreach and Welcoming Committee
OWC's next Second Hour will be an opportunity to share about "How I first came to Quakerism", facilitated on January 22nd by Kathy Long.
Our documents,"

Regular Bellingham Friends Meeting Activities and How to Learn More About Them

"

(recently updated)

and "

A Quaker Glossary

" are both available in hard copy on the greeting table and also by download from the "About Us" page of the BFM website, http://bellinghamfriends.org.
OWC meets next on Saturday morning, January 7th. All Friends are welcome but please contact clerk Don Goldstein (671-1395 or dnx6309@gmail.com) if you will be joining us.
Spirit Group
Announcement
Next meeting:
Thurs, Jan. 12 , 7 - 9 PM
Friends, please click here to read and/or print the draft of the revised Chapter 4 of NPYM's new "Faith and Practice" which the Spirit Group will continue to discuss over the next several months. See calendar for location and time.
(WARNING - this is a long document (38 pages) - too long to print copies for distribution to everyone. So you might want to bring an electronic copy to Spirit Group or read ahead and take notes. )
The group will discuss p

ages 27-38 (remainder of material) in chapter 4 of the draft revision of NPYM's "Faith and Practice"
Social and Environmental Concerns Committee
Standing Rock Event
January 1st, 2017

2 p.m.- 4:00p.m.

or so….
Bellingham Unitarian Fellowship (BUF) 1207 Ellsworth Street, Bellingham
See "Events / Opportunities in the Wider Community" below for more detail

There is room for literature on tables, but must reserve with Karl Meyer, cell: 360-223-2268,karlm@communityfood.coop. PLEASE CONTACT KARL IMMEDIATELY IF INTERESTED.

Northwest oil shipments:
Local Immigrant and farm worker issues:
Familias Unidas por la Justicia (FUJ)—An Evening of Thanks, Honor, and Action
January 14, 6-8 pm
Co-op Connections Building
405 E Holly St
See "Events / Opportunities in the Wider Community" below for more details
2017 Quarterly Meeting Planning Committee (QMPC)
This is an ad hoc (limited term) joint committee including Friends from both Bellingham and Lopez Island Friends Meetings, for the purpose of planning and organizing the adult program for next spring's Pacific Northwest Quarterly Meeting session, to be held April 21-23, 2017, at Lazy F Camp and Retreat Center, near Ellensburg. The session theme will be

"Discerning our Leadings: Worshiping with our Lives."

If you're interested in joining us or just curious about what QM planning involves, contact QMPC Co-clerk Don Goldstein (671-1395 or dnx6309@gmail.com). Next meeting: Friday January 13, 10 am.
Announcements From National
Quaker Lobby / Action Groups
Friends Committee on National Legislation (FCNL)
Supporting Spirit-led action in the weeks and months ahead!
Purposeful Jobs & Opportunities for Young Adults in 2017
Young people of all ages can gain hands-on experience lobbying for peace and social justice. Please share this information widely, especially with young adults who may be home for the holidays:
________________________________________

If you are interested in joining our local Advocacy Team (we meet once a month to plan how to lobby our senators and Rep. Rick Larsen, in concert with other FCNL teams nationwide) contac
t
Virginia Herrick
American Friends Service Committee
Centennial Year
2017 is the American Friends Service Committee's 100th anniversary

Here are 8 ways for individuals and congregations to celebrate 100 years of peace and justice work with us:

1. Host the traveling exhibit about AFSC's values and current work at a Yearly Meeting annual gathering or in a monthly meeting—follow this link to reserve dates and to find out more information.

2. Use our first day school curriculum to tell the story of AFSC's history and current work.

3. Visit peaceworks.afsc.org to read stories from donors, volunteer, staff members, and program participants about their time with AFSC. Then, share your own AFSC story on the website.

4. Pick up the April 2017 edition of Friends Journal, featuring AFSC's Centennial.

5. Attend Friends General Conference's Annual Gathering in 2017, featuring a plenary address and workshops about AFSC.

6. Plan a trip to visit the "Wage Peace" museum exhibit about AFSC as it moves around the country, 2017-2019.

7. Attend the AFSC Centennial summit on April 20-23, 2017 in Philadelphia. (Registration opening soon

8. Donate to the Courageous Acts campaign in honor of the Centennial and AFSC's continued work.

Visit afsc.org/100 for the latest information and starcafe.org/service/centennial for more resources.

We hope to see you at an event or send you more information soon!
Please email Emily McGrew, emcgrew@afsc.org, with any questions.

Videos and Podcasts and More for the Quaker Soul
Explore the Quaker Way

Quakers and Children
Quaker Process
Published on Apr 18, 2014
For 350 years Quakers have been making unanimous decisions in "Meetings for Worship for Business." Don Miller Ph.D., former Clerk of the Richmond VA Friends Meetings and practitioner of Dynamic Facilitation explains the process to Jim Rough. 8/2710
Living and Learning in the Great Outdoors



Kulshan Koma Native Plant Society Trip

January 14, Saturday. 9:15 AM to 3:00 PM
Semiahmoo Spit: Plants and Birds in Winter
We will walk along the spit and alternate identifying plants by their twigs and buds and the marine birds that should be abundant at this time of year. There will be handouts for identifying plants and several scopes and handouts for the common birds seen at this time of year. You may want to bring binoculars for the closer in water birds and terrestrial birds. Bring a lunch and dress for winter weather. Meet at 9:15 AM at the southeast corner of Sunset Square parking lot out from the Safeway, or meet at 10 AM at the parking lot on the left just as you get to the bottom of the hill going out to Semiahmoo spit. For questions, contact Lyle Anderson at 527-3025 or lyleand2@comcast.net.

Click here to see a listing of all the Native Plant Society winter field trips
__________________________________________________________________
Events/Opportunities
in the
Wider Community
Sunday, January 1 at 2 p.m.
Bellingham Unitarian Fellowship 1207 Ellsworth St. Bellingham
Standing Rock Camp Stories from Vets and Water Protectors
Songs from the Heart with Peter Ali/Tracy Spring/JP Falcon
Prayers and Thoughts for a Hopeful New Year
Free Event: donations gladly accepted
*******
Saturday, January 7

,

7:00-9:00 pm
Bellingham Unitarian Fellowship
The Tar Sands Valve Turners - Story Night with Climate Heroes
The Tar Sands Valve Turners Share Their Stories and Conviction for Direct Action on Climate!
Hosts:
350 Bellingham and the Social & Environmental Justice Committee - Bellingham Unitarian Fellowship.
Cost:
Donation collection, 100% goes to #shutitdown legal fund
******
Saturday, January 7, 2017
Guru Nanak Gursikh Gurdwara (Sikh Temple)
176 E. Pole Rd., Lynden
Interfaith Prayer Service
Whatcom County faith leaders and civic leaders will be sharing prayers and peace in multicultural congregation.
Noemi Ban, Holocaust Survivor - Keynote speaker
.
Welcome: 3:30pm
Interfaith Prayer Service: 4-6 pm
Keynote Speaker: Noemi Ban, Holocaust Survivor
Langar (free vegetarian meal): 4-8 pm
"Gurdwara" is the name for a Sikh temple or church. "Gurdwara" means "door of the Guru", and it is where the Sikh scripture resides. The Sikh scripture is the Guru Granth Sahib and it is the only Guru/Guide/Teacher of the Sikhs. People from all faiths, and those who do not profess a faith, are always welcomed in Sikh Gurdwaras.
******

January 14, 6-8 pm
Co-op Connections Building,
405 E Holly St
Familias Unidas por la Justicia (FUJ)—An Evening of Thanks, Honor, and Action
Free, public welcome
Hear from local farmworker union members about their historic decision to be represented by Familias Unidas por la Justicia, ushering in a new era for farmworker justice in Washington state. This is an opportunity to honor their victory, learn what the future holds, and affirm the impact and necessity of standing up for a just food system.
No reservations required. If you want reminders, RSVP on Facebook. For more information, contact Jean at jeanr@communityfood.coop.
__________________________________________________________________
This is shared by La Jolla Meeting - it is a sign created by the Mennonite Comunity
Join with Immanuel Mennonite Church and print your own yard sign. Download yours here: https://immanuelmennonite.wordpress.com/

____________________________________________________________________

Prayer Vigil for Peace in the Middle East
Bellingham faith communities continue the monthly prayer vigils for peace in the Middle East, which were started in December 2000 at the initiative of the Evangelical Lutheran Church in America and organized nationally by Churches for Middle East Peace.

The following faith communities will host the monthly prayer vigils from
5:30 - 6 PM
on


Jan 18th - watch this space for location
__________________________________________________________________

Friday Peace Vigil - started by Rosemary and Howard Harris
Celebrates 50 years in 2016! Longest continuous peace demonstration in the United States!
When: Every Fri, 3:45pm – 4:45pm
Where: 104 W Magnolia St, Bellingham, WA 98225, USA (map)
Description: The Nation's oldest weekly Peace Vigil. Paricipants gather weekly at 4:00 pm with signs in front of the Federal Building on the Corner of Magnolia and Cornwall Streets.
_________________________________________________

Looking Ahead to Wider Quaker Gatherings
PNQM Silent Retreat
Camp Huston, Gold Bar, Washington


January 20-23, 2017


(with optional extension to Jan. 24)

Reach more profound depths in the Silence of Quaker worship,
deeper communion with your authentic self,
your spiritual community and the Divine.

For information, click here or contact Bill Ames at
bill@silentpondmassage.com, or at the following:

Bill Ames
610 NW 70th St.
Seattle, WA 98117
General Meetings - Quarterly and Yearly Meetings and The Gathering
___________________________________________________________
Spring 2017 Quarterly Meeting Session
April 21-23
PNQM meets in the Fall and Spring of each year at the Lazy F Camp near Ellensburg
in Central Washington. The program begins on Friday evening and ends with lunch on Sunday.
Responsibility for planning rotates among the Monthly Meetings of the Quarter.
Registration information should be available in February
For more information, contact Don Goldstein (dnx6309@gmail.com) or click
here
.
_________________________________________________________________
Quaker special events, retreats, workshops, conferences, etc.
_________________________________________________________________
Announcements / Opportunities from Other Quaker Groups
____________________________________________________
On-line Course Offering
We Were Made for this Moment
In this time of tumult, fear, and hatred, the world needs the gifts that you were born to share. You may not be sure where to use them. You may not know how to use them to greatest effect, or even if you can make a difference at all, but you know you need to do something to work for a more just and loving world. You are not alone! The purpose of this online course is to help you to meet this moment.
What is unique about this course is that it will blend three types of teaching: social change theory, spiritual discernment, and personal empowerment. For example, you will learn about different social change roles and what makes them effective. Then you will practice the tools of inward listening to access the wisdom already within you about what role you are meant to play. Finally, you will explore what gets you stuck and learn tools to help you take action even when you are afraid. These three types of teaching will be woven together in each lesson, accessing our hearts, minds, and spirits for the work of creating a more just and sustainable world. Recordings of the class sessions will be available in case you can't make every one.
The course will take place the five Mondays of January from 7:30 until 9:00pm EST. That's January 2 to January 30. It is $50 for five weeks, $30 if you register by December 6 or if you recruit a friend to take the course with you.

Click here to register and to read more about the course

Eileen Flanagan is a board member of Earth Quaker Action Team (EQAT)
_________________

Musical growth and personal development

in a caring, inclusive community informed by Quaker values.

Join us for FMC 2017!
July 9 - August 6, 2017
Enrollment is open to all young people ages 10 to 18.
Prospective campers should have at least one year of lessons on their chosen instrument, or one year of experience in a school orchestra, band or choir program. Scholarships are available.
Friends Music Camp is held on the campus of Earlham College in Richmond, Indiana.

For more information about Friends Music Camp, click here


Pendle Hill
Offers Quaker Studies Online courses
(as well as amazing on-site retreats and workshops!)
click the link below for more inforamtion about on-line courses:
http://www.pendlehill.org/quaker-studies-online-a-new-pendle-hill-initiative/#.VzkJ-JMrL6A

Pendle Hill Online Course - January 9, 2017 - April 2, 2017
Winter 2017: Exploring the Quaker Way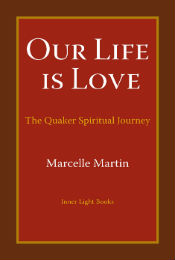 This course, taught by Marcelle Martin and assisted by Steve Chase, runs from January 9 through April 2. "Exploring the Quaker Way" is for seekers, attenders, and interested members of Friends meetings who want to: 1) deepen their understanding of the "unprogrammed" Quaker tradition; 2) better understand the spiritual journey common among early and current Friends; 3) reflect on their own spiritual journeys within this simple, radical, and contemporary spiritual path; and 4) become more familiar with key elements of fostering vibrant and caring Quaker communities. It is designed for people who want to explore these themes through personal reflection, focused study, and deep dialog within a lively learning community gently guided by seasoned Quaker educators and several guest presenters.
>>> Click here for more information <<<
(Offers many resources including the ones listed below)
Building a deeper spiritual community in your meeting.
_________________________________________________________________
On-line Quaker Meetings for Worship - with two Quaker Groups
On Our Website:
Click to visit website
Metamorphosis
(our monthly newsletter - with feature articles and poetry and much more!)
Back issues of the E-News
(soon to include this one!)