March-April, 2023
The Videogram is published every other month, linking you to the latest information on the club website. When news can't wait, Videogram ALERTS keep you informed. Videogram REMINDERS make sure you don't miss important events.

Past Videograms are archived on the club website.
---
The Next Short Film Showcase Is Monday, March 6, 2023
"Bowling Ball Debacle" Film Premieres Thursday, March 16
Volunteer Needed! Help Keep the Video Club Informed
Spring 2023 Learning Opportunities Schedule Now Available
Short Dramatic Script Contest Ends Friday, March 10
Watch for Gate 12 Entry Changes
Next Video Shooting Expedition is April 8
---
RETURN TO TOP
Welcome to the Matontis!
Bob and Diane Matonti (right) have stepped up to help create our quarterly Short Film Showcase presentations. This will be their first show, so please join us to welcome them. And many thanks to Diane and Bob for the hours this job takes, selecting top videos from YouTube!
RETURN TO TOP
---

Monthly General Meeting
"Bowling Ball Debacle" Premiere
Thursday, March 16, 2023
6:30 - 8:30 PM - Video Lab

The Video Club'
s 4th Short Dramatic Film will have its first public showing in the Video Lab on March 16th, 2023. Plan to attend this gala event, also featuring a wine and cheese reception and a short program about the making of the film.

"Bowling Ball Debacle" is a comedy involving fingers getting caught in a bowling ball, but it also makes several serious points. The director was veteran stage actor and director, Gila Zalon. Although it was
her first experience of directing film-style movie shooting, according to Producer Tom Nash she performed like a pro.

See the film, meet members of the crew (unfortunately, we understand that no cast members will be able to attend), and hear Director Gila Zalon and Producer Tom Nash discuss the recent efforts that went into planning, shooting, and editing "Bowling Ball Debacle." The author, Jeanne Sanner, an experienced actor and a former Village resident, also stars in the film. She appears above (right) with resident cast member Wendy Hames

Socializing at 6:30 pm and program at 7 pm. There is no charge and all Village residents and their guests are welcome. For more information visit our website at VideoClubofLagunaWoods.com or email us at VideoClubofLagunawoods@gmail.com.
---


Help Keep the Video Club Informed
What's going on in the Video Club? A volunteer is needed to create reminders of upcoming events and to help maintain our online calendar of club activities.

Could that person be YOU?
Even if you're new to the Video Club, don't worry. Full information, instructions, and follow-up guidance will be provided. And your fellow members will thank you for keeping them in-the-know.

To find out more about this key volunteer opportunity, please contact President Steve Carman, steve.carman@mac.com, 424-254-6583.
---
Spring 2023 Learning Opportunities Schedule Now Available
Click here to download the new schedule.
Windows PC users, please note that in May you'll be offered what may be your only chance this year to learn video editing basics!

On Saturday, May 6, veteran Friday Lab Supervisor Wolfgang Kutter, who leads the monthly "Corel VideoStudio Forum," will offer one session on "Tips to Facilitate Video Editing on the PC."


This class will be followed by Tom Nash's two-session introductory "Corel VideoStudio Editing for the PC," starting Saturday, May 13. Don't miss your opportunity to start turning your video clips and still photos into real video productions.
In all, five classes at $5 per session -- and a wide range of free activities to improve your video skills -- are listed in the Video Club's Spring 2023 Learning Opportunities Schedule.

Tom, who is our club Vice President and Director of the Learning Opportunities Committee, will introduce two new classes this spring:

"Video Editing Principles" (2 sessions) designed for users of any software on any computer, starting Saturday, March 25, and...

"Color Correcting and Enhancement Using Corel VideoStudio on the PC" (1 session), an advanced demonstration class, on Saturday, May 27.


Tom will also teach a "very hands-on" introductory class in "Multi-Camera Studio Production" for three sessions in the Video Studio starting Saturday, April 15. Says Tom: "The Video Club produces several programs in our Studio. If you would like to help with these, or perhaps produce your own material, this class is for you.... You will learn what each part of the (production) team does and try your hand at several of the tasks."
In addition to classes, the schedule lists our two Zoom-based special interest Forums: the Corel VideoStudio Forum, which meets monthly on third Mondays at 10 am, and Video One Productions, which meets twice monthly on second and fourth Fridays at 1 pm. It also lists our quarterly Short Film Showcases (the next one will be Monday, March 6); our monthly in-person General Meetings, held on third Thursdays in the Video Lab; and our semi-monthly Video Shooting Expeditions (coming up next on Saturday, April 8).
---

Attention Writers!
Short Dramatic Script Contest
Ends March 10, 2023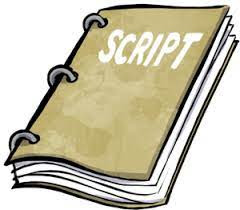 The Video Club is looking for a script for a 10-to-15 minute drama (may be comedy, etc.). It should be fully scripted and using actors. The selected script may be produced by the VideoClub's Video One Productions team during the spring of 2023 for broadcast on Village Television, possible submission to film festivals, later streaming on YouTube, and other distribution. Read and download full guidelines for submission below.
Four such films have already been produced by the Video Club: "Write It Down" (2019), "What, You, Too?" (2021), "The Hole in One" (2022), and "Bowling Ball Debacle," which will have its Premiere March 16.

Click here for more information. Submissions due March 10. Contact Tom Nash at (714) 381-0781 for instructions.
---

WATCH FOR GATE 12 "ENTRY CHANGES"
As many of you have experienced, all residents are now required to present your Village ID card to gain access through Gate 12. The Video Club resides inside Gate 12.
For non-resident members we have submitted a Gate Clearance list which will be valid through the end of June. At the end of June, we will be required to resubmit a new Gate Clearance list through Property Services. For special events, we normally submit a Guest List for non-resident guests.
RETURN TO TOP
---

Video Shooting Expedition
Saturday, April 8, 2023
1:30-4:00 PM - Video Lab

Returning by popular demand!!!
Calling all videographers!! Want to try something fun? Our first Video Shooting Expedition — led by Dr. Tom Nash and Stephanie Brasher on December 12, and attended by about a dozen participants — was so successful that we've decided to repeat it every other month.
Our next Video Shooting Expedition will be held on Saturday, April 8, from 1:30 to 4 pm. You will meet in the Video Lab, review the day's assignment, then go to a nearby
location and shoot video. You may bring any type of video or still camera or smartphone for this project.
This Video Shooting Expedition is FREE to all Village residents and their guests. Contact us with any questions you may have at videocluboflagunawoods@gmail.com.