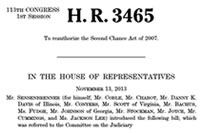 Why We Need a Second Chance

H.R.3465 and its identical Senate counterpart S.1690 are important pieces of legislation that will fund, extend, and expand on critical reentry programs and services throughout the country. The Center For Prison Reform supports these bills and is actively working to secure their passage.
An Unusual Prison Proposition

CURE, a large organization of former inmates, has its eyes set on a private prison in Washington D.C. as a possible location for a unique idea: a prison run by released prisoners. With costs, incarceration rates, and abuses plaguing the U.S. penal system, is it time for a fresh look at lockup?